Dispute Catastrophic Thoughts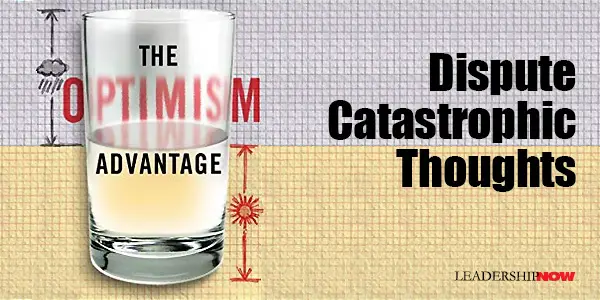 WARREN BENNIS wrote in Leader to Leader that "every exemplary leader that I have met has what seems to be an unwarranted degree of optimism—and that helps generate the energy and commitment necessary to achieve results."
Optimism says Bennis, "the sense that things generally work out well, creates tremendous confidence in oneself and in those around one." Optimism helps leaders to be more resilient as they tend to believe in their capacity for self-control and the ability to overcome obstacles that come their way. In short, I would say, optimism is finding perspective.

In
The Optimism Advantage
, Terry Paulson offers fifty truths for cultivating optimism beginning with "Life is Difficult." (Perhaps not what you would expect from a book on optimism.) He writes, "If you want to be a true optimist, start by being a realist. Accept that life is difficult, and then get busy learning as much as you can about the challenges you face. Why? Because you've overcome problems in the past, you have every reason to believe that you've got what it takes to overcome whatever problems life deals you."
One important place to begin is with our negative thoughts and feelings. Optimists dispute catastrophic thoughts, those "feelings that everything is wrong and that nothing is going to change." Paulson says that "means you have to be ready to argue with some of your negative beliefs." Optimism is "about facing and taking advantage of reality—even unsettling reality. Expecting unrealistic results may actually increase your dissatisfaction….To an optimist, it's all about resilience and maximizing your results."
Start with understanding what it is you're saying to yourself that is causing a bigger problem in your thinking. Clarify it and then take a critical look at your beliefs and dispute them. Are they valid? Is there another way to look at this? Seek alternate explanations. Optimists ask, "Is there any less destructive way to look at this or explain what happened?" Look for causes that you can overcome and focus on what can be changed and then take action.
* * *


Like us on
Instagram
and
Facebook
for additional leadership and personal development ideas.
* * *


Posted by Michael McKinney at 12:36 AM
Permalink | Comments (0) | This post is about Personal Development , Positive Leadership , Thinking