How Many Surface Areas Do You Have?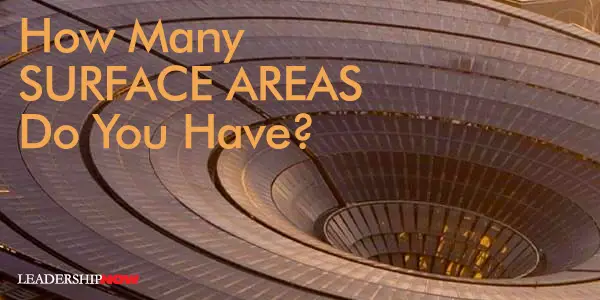 H
OW MANY points of contact do you have with the world around you? If we limit ourselves to one area or experience, then we limit our exposure and growth. If we depend too much on one facet of our lives, we isolate ourselves from the world around us and we end up missing what is really going on.
In The Power of Pull the authors share their conversation with entrepreneur Jack Hidary. He explains that people overlook obvious situations because they "paint themselves into a corner such that their entire interaction with the outside world is mediated through this one facet. Then they're unable to critically analyze where they are. That's how they end up going down with the ship."
This is important because as authors John Hagel III, John Seely Brown, and Lang Davison point out, "If we are going to succeed in this rapidly changing world, we face two challenges: making sense of the changes around us, and making progress in an increasingly unfamiliar world." To do this we need to approach what we do in a way that allows us to be in the flow of knowledge and open to serendipitous events that inform us of things we didn't know and didn't even know we were looking for.
That approach they call pull: the ability to draw out people and resources to address opportunities and challenges. It's different than push. Push predetermines our needs and then creates systems and standardized processes designed to provide what we need when we need it. It says, "I know better than you. Do this, not that." It says, "I know. Here's what you do." On the other hand, pull says, "I don't know. I'll seek."
The pull approach works to help us to find and access people and resources when we need them, the ability to attract people and resources that are relevant and valuable and then to pull from ourselves the insight and performance required to achieve our potential.
The attract aspect of pull is critical. In a world that is changing so quickly, we often don't even know what we are looking for or the questions to ask to get there. It calls for a different approach. It increasingly depends upon serendipity. You need to increase your surface areas. You need to look for ways to pull people and their knowledge toward you. "If you want to find out what it is you don't know that you don't know, you need to hang out with other people who might already know it."
We need serendipitous encounters with people because of the importance of the ideas that these people carry with them and the connections they have. People carry tacit knowledge. … You've got to stand next to someone who already knows and learn by doing. Tacit knowledge exists only in people's heads. As edges arise ever more quickly, all of us must not only find the people who carry the new knowledge but get to know them well enough (and provide them with sufficient reciprocal value) that they're comfortable trying to share it with us.
The authors claim that serendipity in certain respects can be shaped. Of course luck is involved, but we can materially affect it by our actions. We need amplifiers and filters. Amplifiers "that can help us reach and connect to large groups of people around the globe that we do not know." Filters "that can help us to increase the quality as well as the number of unexpected encounters and ensuing relationships that are truly the most relevant and valuable." We can manage serendipity by:
Choosing environments that increase our likelihood of encountering people who share our passions
Becoming and staying visible to the people who matter most
Influencing their endeavors so they amplify our own
Discovering and interacting with the right people at the right times
Making the most of every serendipitous encounter
The authors ask: What are the five places in the world that would offer the richest opportunities for serendipitous encounters with people who share your passions and interests? What actions could you take to increase the likelihood and quality of serendipitous encounters in the online social networks you participate in? Of the people you met serendipitously in any venue over the past year, how many of these people have you actually engaged in some joint initiative related to your passions and interests?
* * *


Like us on
Instagram
and
Facebook
for additional leadership and personal development ideas.
* * *

Posted by Michael McKinney at 08:58 AM
Permalink | Comments (0) | This post is about Creativity & Innovation , Learning , Thinking