The Power of Pull
: How Small Moves, Smartly Made, Can Set Big Things in Motion
John Hagel III, John Seely Brown and Lang Davison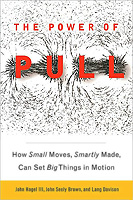 Format:
Paperback, 296pp.
ISBN:
9780465028764
Publisher:
Basic Books
Pub. Date:
December 4, 2012
Average Customer Review:


For Bulk Orders Call: 626-441-2024

Description and Reviews
From
The Publisher:
In a radical break with the past, information now flows like water, and we must learn how to tap into its stream. Individuals and companies can no longer rely on the stocks of knowledge that they've carefully built up and stored away. Information now flows like water, and we must learn how to tap into the stream. But many of us remain stuck in old practices—practices that could undermine us as we search for success and meaning.
In this revolutionary book, three doyens of the Internet age, whose path-breaking work has made headlines around the world, reveal the adjustments we must make if we take these changes seriously. In a world of increasing risk and opportunity, we must understand the importance of pull. Understood and used properly, the power of pull can draw out the best in people and institutions by connecting them in ways that increase understanding and effectiveness. Pull can turn uncertainty into opportunity, and enable small moves to achieve outsized impact.
Drawing on pioneering research,
The Power of Pull
shows how to apply its principles to unlock the hidden potential of individuals and organizations, and how to use it as a force for social change and the development of creative talent.
The authors explore how to use the power of pull to:
Access new sources of information
Attract likeminded individuals from around the world
Shape serendipity to increase the likelihood of positive chance encounters
Form creation spaces to drive you and your colleagues to new heights
Transform your organization to adapt to the flow of knowledge
The Power of Pull
is essential reading for entrepreneurs, managers, and anybody interested in understanding and harnessing the shifting forces of our networked world.

Reviews
"The Power of Pull examines the "how question"—how can we effectively address our most pressing challenges in a rapidly changing and increasingly interdependent world? In The Power of Pull, John Hagel, John Seely Brown, and Lang Davison highlight fascinating new ways in which passionate thinking, creative solutions, and committed action can—and will—make it possible for us to seize opportunities and remain in step with change."
—William Jefferson Clinton, 42nd President of the United States of America
"The Power of Pull will do for our 21st-century information-age institutional leadership what Peter Drucker's The Concept of the Corporation did for industrial-era management. This book begins to create a body of learnable principles that will revolutionize our ability to access and work with knowledge flows."
—Newt Gingrich, former Speaker of the U.S. House of Representatives
"Hagel, Brown, and Davison have given us a provocative and insightful look at the power of today's knowledge flow. If you want to meet the challenges of working and living in the 21st century, this book should be your guide."
—Eric Schmidt, Chairman and CEO of Google
"Connecting many important threads through beautiful metaphors and wonderful narratives, the authors provide both a mind-expanding view of how the world is changing and a solid framework and context to approach the future for anyone interested in surviving and enjoying it."
—Joichi Ito, CEO of Creative Commons and Internet venture investor
"In times of unprecedented change, we as individuals and institutions can have extraordinary leverage and influence if we marshal the passion, knowledge and resources necessary to achieve great things. The Power of Pull empowers and guides us to make the most of today's enormous possibilities."
—John Naisbitt, author of Megatrends
"Stop whatever you are doing and read this amazing book. The authors totally nail it. Digging beneath the surface of stuff that distracts us on a daily basis, they unpack the deep forces that really truly matter and provide a guidebook each of us can use to unleash passion, transform how and why we work, and restore destiny and dignity to our lives."
—Richard Florida, author of The Rise of the Creative Class and The Great Reset
"We live in a global village, where borders are blurred, where all humanity could and should be responsible for the well-being of others. The Power of Pull proposes fresh insights that coalesce into a powerful way forward in this new world. This erudite manual for change is a testament to the creativity and insight of its authors."
—Mark E. Tucker, Former Group Chief Executive of Prudential plc, Member of the Court of the Bank of England
"As social media and enterprise cloud computing continue to exert their democratizing influences, the Power of Pull will become a key principle for success. The individuals who learn how to use these tools most effectively are the ones who will pull their institutions into new heights of rapid innovation, improved performance and significant achievement."
—Marc Benioff, CEO of Salesforce.com
"This brilliant and exciting book shows how to pursue your passions by harnessing the power of networks. Success no longer comes from possessing knowledge; instead, you have to participate with others in creating a flow of knowledge. The power of 'pull'—the ability to draw out people and resources for each endeavor—can transform both individuals and institutions."
—Walter Isaacson, President and CEO, the Aspen Institute, and author of Einstein: His Life and Universe
"This is a seminal work that explores the personal and professional implications of a powerful convergence of technologies, ranging from in memory databases for speed, massive parallel processing in the cloud, access via telephone for anything, anytime, everywhere. We are just beginning to understand what this means for us. The authors help us to understand where and how pull will change our lives and our work given the new digital infrastructures re-shaping our landscape. It offers us a roadmap that we neglect at our peril."
—Hasso Plattner, Founder and Chairman of SAP Supervisory Board
"The Power of Pull is a powerful new meme for navigating and networking in the 21st century."
—John Doerr, Partner at Kleiner Perkins Caufield & Byers venture capital
"In a ferociously dynamic world, what happens if we can't plan but can only adapt? We must move, say the authors, from push to pull. At the center of the pull strategy is an individual (not a corporation) who has access to knowledge flows, takes advantage of porous boundaries and serendipitous interactions, and occupies new creative spaces to achieve a novel order of performance. I know. It's a complex model with several moving parts. But it makes for an exhilarating read as the authors sublimely reinvent the world of enterprise."
—Harvard Business Review

About the Authors
John Hagel III
is the co-chairman of the Deloitte Center for the Edge. He is the author of a series of best-selling business books, including Net Gain, Net Worth, Out of the Box and The Only Sustainable Edge. He lives in Burlingame, California.
John Seely Brown
is the independent co-chairman of the Deloitte Center for the Edge and a visiting scholar at the University of Southern California. He is co-author of the best-selling book The Social Life of Information. He lives in Palo Alto, California.
Lang Davison
is executive director of the Deloitte Center for the Edge. He was also the collaborating writer for the best-selling and critically acclaimed book Net Gain, Net Worth, authored by John Hagel. He lives in Portland, Oregon.