Leading Views: Leadership Without a Pinch of Fear is Like Cooking Without Salt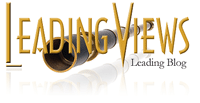 On July 1, Nitin Nohria will become the tenth dean of Harvard Business School. He brings with him a new perspective that is much needed at this time. Harvard professor Rosabeth Moss Kanter told Stefan Stern of the
Financial Times
, "This is about leaders who take responsibility. I could characterize it as the start of a shift to moral capitalism. And not just as a corrective. This is something new."
Nohria is by all reports a collaborative leader and a reflective one as well. In the 2000 book,
The Arc of Ambition
that he co-authored with James Champy, they write about the need for positive anxiety in leadership and the need to share power:
Fear chills minds, numbs souls, kills initiative and businesses. And yet, our arsenal can't be entirely devoid of fear. A certain amount of fear is necessary to improve performance—assuming that by fear one means positive anxiety, the edgy urge to do a great job and not let down the team.
Those incapable of instilling that feeling throughout a company may well invite disrespect for the common enterprise. They flirt with apathy and mediocrity. Leadership without a pinch of fear is like cooking without salt.
But the ambitious don't take advice easily…Once they are in charge, they may feel their position threatened by other opinions, particularly those that differ from their own.
More likely, ambitious people just believe that they are right. In their minds, they suffer no fools. Time is too short for that.
Sometimes, they also select men and women for their boards who reflect their own opinions. That's a dangerous practice, especially if somewhere in the exercise of your ambition, you are wrong (it happens, you know). Someone needs to be present who dares to disagree with you.
Coming to grips with our own ambitions is ultimately a forewarning about the myth of omnipotence. No solo ruler of a complex can ever have enough creativity, knowledge, and time to make the right decisions single-handedly. His or her survival depends on sowing and reaping the brilliant work of others. By sacrificing the appearance of power, we achieve the substance—the real reward—of power.
Posted by Michael McKinney at 10:03 AM
Permalink | Comments (0) | This post is about Leading Views