Mark Twain on Leadership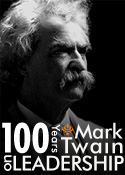 M
ark Twain (Samuel Langhorne Clemens) died of a heart attack one-hundred years ago today, at his home in Redding, Connecticut. He left behind a wide range of comments regarding leadership ideas and principles.
It could be said that he believed in
Management By Wandering Around
. In his autobiography he wrote, "In religion and politics people's beliefs and convictions are in almost every case gotten at second-hand, and without examination, from authorities who have not themselves examined the questions at issue but have taken them at second-hand from other non-examiners, whose opinions about them were not worth a brass farthing." Firsthand knowledge is a competitive advantage.
A statesman gains little by the arbitrary exercise of ironclad authority upon all occasions that offer, for this wounds the just pride of his subordinates, and thus tends to undermine his strength. A little concession, now and then, where it can do no harm is the wiser policy. (From A Connecticut Yankee in King Arthur's Court)
The man who does not read good books has no advantage over the man who cannot read them.
The miracle, or the power, that elevates the few is to be found in their perseverance under the promptings of a brave, determined spirit.
On Encouragement:
I can live for two months on a good compliment.
On Success:
Keep away from people who try to belittle your ambitions. Small people always do that, but the really great make you feel that you, too, can become great.
Success is a journey, not a destination. It requires constant effort, vigilance and re-evaluation.
The secret of success is making your vocation your vacation.
Work and play are words used to describe the same thing under differing conditions.
On Courage:
Courage is resistance to fear, mastery of fear - not absence of fear. Except a creature be part coward it is not a compliment to say it is brave. (From The Tragedy of Pudd'nhead Wilson)
It is curious that physical courage should be so common in the world and moral courage so rare.
On Vision:
You cannot depend on your eyes when your imagination is out of focus.
Don't part with your illusions. When they are gone, you may still exist, but you have ceased to live.
On Execution:
The secret of getting ahead is getting started. The secret of getting started is breaking your complex, overwhelming tasks into small manageable tasks, and then starting on the first one.
Twenty years from now you will be more disappointed by the things that you didn't do than by the ones you did do. So throw off the bowlines. Sail away from the safe harbor. Catch the trade winds in your sails. Explore. Dream. Discover.
On Ethics:
Always do right. This will gratify some people and astonish the rest.
I am different from [George] Washington; I have a higher, grander standard of principle. Washington could not lie. I can lie, but I won't.
On Communication:
The difference between the right word and the almost right word is the difference between lightning and the lightning bug.
It is better to keep your mouth closed and let people think you are a fool than to open it and remove all doubt.
If you have nothing to say, say nothing.
Twain was not a successful businessman. After emerging from bankruptcy in 1901, Twain advised, "To succeed in business, avoid my example." He was however, a witty and shrewd moralist and critic of human nature. A century after he wrote his last words, Twain still remains relevant.
Posted by Michael McKinney at 07:07 AM
Permalink | Comments (0) | This post is about Leaders , Leadership , Personal Development