Leading Views: Donald Powell on the Qualities of a Leader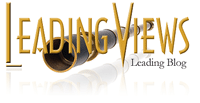 In
Thriving In the New Economy
by Lori Ann LaRocco, former Federal Deposit Insurance Corporation Chairman Donald Powell shares his view of what a leader should be:
Leadership is vital; it provides hope and stability. We usually know it when we see it. Leaders don't panic. Leaders have ice in their veins. Leaders are disciplined and have a plan—and they execute. If the facts change, they change their course. Leaders set the tone, and more importantly, they lead through example … they walk the talk!
Leaders must be able to stand the heat. They sometimes have to look people in the eye and say, we thought about doing that and decided not to participate, because we think a product/action has abnormal risk and would not be long-term beneficial to our shareholders. That is hard to do, especially when there is much pressure to perform with peers, but leaders don't follow the crowd; and sometimes these decisions can have consequences.
Posted by Michael McKinney at 11:29 AM
Permalink | Comments (0) | This post is about Leading Views