Free E-books on Communication and Pricing

This weekend you might want to read a couple of good e-books. And they're free!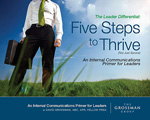 First, there is
The Leader Differential: Five Steps to Thrive (Not Just Survive)
by
David Grossman
, founder of The Grossman Group, a Chicago-based internal communications agency. This 21 page e-book is essentially an internal communications primer that offers corporate leaders basic (but effective) tips for communicating with employees in a way that will result in measurable outward company growth. Here are a couple of thoughts from this e-book:
Reflect on what others are seeing and reading every time they interact with you, and develop the awareness not only to act the role of the leader you want to be, but to role model the actions and characteristics that you would like to see in others.
And one of the biggest complaints employees have in these uncertain times is that they are not getting enough information or they get what turns out to be simply misinformation cloaked in openness. How much information is enough information? Grossman states:
Naturally, it depends on the situation, but in the case, for example, that you've got a big elephant in the room—a reorganization, a high-level executive change, a merger or acquisition, a round of layoffs, or anything else that could be seen by employees as directly threatening their positions at your company—tell them what you know, what you don't know, when you're going to find out additional information, and stamp out myths or misperceptions. The key here is transparency, which means addressing the issue at hand before it spirals out of control.
Grossman provides guidance in how much to communicate and then how to control the message.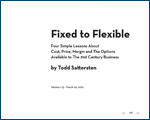 Next, check out
Todd Sattersten
's
Fixed to Flexible
. This 37 page e-book is about cost, price, margin, and the options we have for how to sell. From the introduction:
Fixed has been replaced with flexible. Control of a product category, distribution channel or branding message no longer exists. While this is being heralded as a boon for customers, companies have been slower to adapt to the new terrain. Companies with multi-national presence and individuals with multitudes of projects both need to create a new set of strategies.
This ebook collects the commercial aspects of cost, price, and margin and presents a variety of alternatives about how to make your way in the world of infinite choice.



Like us on
Instagram
and
Facebook
for additional leadership and personal development ideas.
Posted by Michael McKinney at 08:01 AM
Permalink | Comments (0) | This post is about Weekend Supplement