5 Leadership Lessons: Colonel Bob Stewart on Leading Under Pressure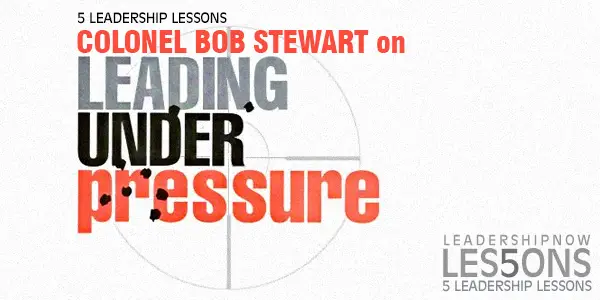 Leadership Under Pressure is a book of lessons learned and shared in personal stories by Colonel Bob Stewart. He was the first British United Nations Commander in Bosnia. On return from Bosnia Stewart was awarded the Distinguished Service Order for "cool courage and inspirational leadership."
Stewart believes that leadership is universal and is not confined to a few special people. "It is universal, normal and quite ordinary too…. Leading in its basic form is the ability to show the way and guide others to achieve something." Here are just several of the lessons he presents:

  Leaders make things happen. The reason why people are placed in charge is so that they can make choices that work and make circumstances better. If officers or business executives were to simply follow orders without question and execute a plan according to a set formula, the job could be done by anyone who passes by. What separates officers from soldiers, and business executives from other employees is the fact that both groups are deliberately positioned to determine strategy and then lead others.

  In Bosnia I considered briefing and communication to all members of my battalion to be even more vital than for conventional operations. I put great emphasis on each soldier being able to make his or her own decisions when it was necessary. Repeatedly I told everyone that they were all leaders because whatever they did mattered and would have consequences. Obviously, if soldiers are so empowered, they must know exactly what is planned and their part in it.

  There is nothing better than personally gained knowledge of what is happening. In both military and commercial life visits are probably the best way of getting up to speed on the reality of what is happening.

  "Look downwards before you look upwards" my father had advised when I arrived at Sandhurst in 1967. His meaning was clear. Care about those who work for you before you concern yourself with pleasing superiors.

  I find it interesting when organizations opt for anonymous surveys. That worries me a little, even though I understand the good reasons for it. I think my worry is why company leaders feel they will not get the truth without this condition. Surely if company employees feel valued and secure they will also believe that any constructive comments they make will not be misinterpreted and possibly threaten their positions or jobs?
* * *


Like us on
Instagram
and
Facebook
for additional leadership and personal development ideas.
* * *


Posted by Michael McKinney at 02:09 PM
Permalink | Comments (0) | This post is about Communication , Five Lessons