George Washington's Rules of Civility and Decent Behavior

If you're considering some personal development goals you couldn't go wrong reviewing the 110
Rules of Civility & Decent Behavior
once copied down by George Washington.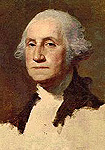 By age sixteen, Washington had copied out by hand the 110
Rules of Civility & Decent Behavior in Company and Conversation
. They are based on a set of rules composed by French Jesuits in 1595. Presumably they were copied out as part of an exercise in penmanship assigned by young Washington's schoolmaster. The first English translation of the French rules appeared in 1640, and are ascribed to Francis Hawkins the twelve-year-old son of a doctor.
Today many, if not all of these rules, sound a little fussy if not downright silly. It would be easy to dismiss them as outdated and appropriate to a time of powdered wigs and quills, but they reflect a focus that is increasingly difficult to find. The rules have in common a focus on other people rather than the narrow focus of our own self-interests that we find so prevalent today. Fussy or not, they represent more than just manners. They are the small sacrifices that we should all be willing to make for the good of all and the sake of living together.
Check them out at
Foundations Magazine
.



Like us on
Instagram
and
Facebook
for additional leadership and personal development ideas.
Posted by Michael McKinney at 09:11 AM
Permalink | Comments (0) | This post is about Washington's Lessons , Weekend Supplement