Leading Views: Winning Hearts and Minds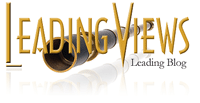 Smart people with great credentials often self-destruct because they fail to connect with the people they are trying to influence. Both teachers and leaders must win the hearts and minds of those they lead. Without an emotional connection, both students and employees are just getting through the day. Leaders must learn to focus on the human side if they are to be effective. In
Fierce Leadership
author Susan Scott shares the difference between good teachers and bad teachers:
What makes for a bad teacher? Things like rigid control, broadcasting from the front of the room, and yes/no, right/wrong feedback. What makes for a good teacher? Things like creating a "holding space" for lively interaction, flexibility in how students become engaged in a topic, a regard for student perspective, the ability to personalize the material for each student, responding to questions and answers with sensitivity, and providing high-quality feedback "where there is a back-and-forth exchange to get a deeper understanding."
Sounds like the behavior of a good leader.
Posted by Michael McKinney at 04:30 PM
Permalink | Comments (0) | This post is about Leading Views