What Is Your Platform?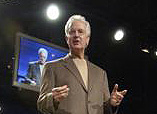 Pat Williams
is the Senior Vice President of the Orlando Magic, the NBA team he co-founded in 1987. In
What Are You Living For?
he lists four reasons for living our lives: to build character, for what we believe in, raising another generation, and our influence. He writes, "Through our influence, the very best part of us lives on even after we physically die."
He lists
seven practical ways you can invest your life in the lives of others
:
Be careful what you say.
Be aware that others are watching your example.
Use your accomplishments and your influence to inspire the next generation.
Take advantage of every "moment of influence."
When you make a mistake admit it.
Be generous with your time and resources.
Make all of your decisions on the basis of ethics and integrity, not personal advantage.
There are people in your life that need your influence. We all have a platform to "speak-up" from and make a difference in someone's life.
Dale Murphy (Major League Baseball All-Star and founder of I Won't Cheat Foundation) is a sports celebrity who seeks to leverage his achievements on the playing field into a positive influence on the lives of others, especially young people. People in the sports world who are conscious of their influence often speak of their "platform." In the literal sense, a platform is an elevated stage from which a person can speak and be heard by the crowd below. A sports celebrity has a platform of fame, which he or she can use to influence fans, young people and society at large.

You may not have the platform of a sports star. But there are people who look up to you, watch your life and listen to your words. Like it or not, my friend, you have a platform and you are responsible for your influence. How are you using your platform?
Posted by Michael McKinney at 09:50 AM
Permalink | Comments (0) | This post is about Leadership