Where Do You Go to Revitalize Your Standards?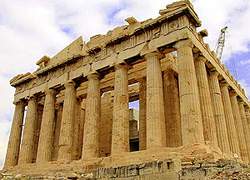 The Parthenon, completed in 432 BC, is one of the world's greatest cultural monuments. The Doric temple was famously designed to counteract the optical illusions created by looking at something so large. To the observer, the columns look perfectly straight and perpendicular, and the steps appear to be horizontally level. This illusion is only possible by exacting architectural corrections.
To account for what the eye sees, every column, instead of being a straight line from base to neck, are actually curved on a slight arc having a gentle swell in the middle or
entasis
. In addition, the corner columns are slightly larger in diameter than the others and are placed closer to the adjacent column than the distance between each of the other columns. This is due to the fact that the more well-lighted an object is, the smaller it will appear and thus a little further apart than the columns set against the darker background of the building wall.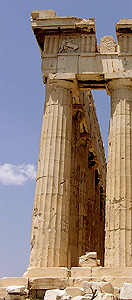 As the columns rise they are angled towards the center of the temple. Remarkably, the base upon which they rest is curved upwards towards the center so as to make it look horizontally level from a distance. To offset the curvature of the base, the lower drums of the columns are made higher on one side than on the other. Without this correction the columns would lean in opposite directions.
All of the deviations from the vertical and the horizontal made to enhance building's appearance required exacting mathematical calculations. The lines and angles of this geometric structure have been softened into curves so perfectly that they are imperceptible to the observer's eye and harmoniously create the builders vision. Excellence.
Dan Meyer relates the story of an elderly man who returned every few years to the city of Athens for most of his adult life. Each time he would climb to the top of the Acropolis, take a seat on one of its ancient stones and spend an hour or two letting his eyes wander over the massive plateau, reflecting on the soaring columns, and the perfect proportions of the Parthenon. When asked to explain the reason for his habitual behavior, the elderly gentleman's eyes crinkled as he smiled:
"I do this because it keeps my standards high."
Where do you go for inspiration? Where do your values come from? Where do you go to
revitalize
your standards?

Posted by Michael McKinney at 10:40 PM
Permalink | Comments (0) | This post is about Personal Development