What History Can Teach Us About Leadership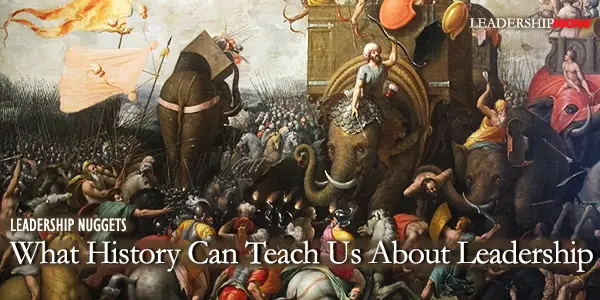 A couple of years ago while browsing in a local bookstore in Naples, Florida, for something interesting to read, I came across Hannibal Crosses the Alps by John Prevas. It's the story of the ancient Carthaginian commander who accomplished something that neither his allies nor his enemies thought possible: He led an army, including horses and elephants, over the Alps in winter and then defeated his Roman adversaries in their own backyard.
As I reviewed the book in Forbes magazine, two thoughts occurred to me about leadership: (1) Anyone who accomplishes something great, something unique, whether in business or in politics, often does so by defying the conventional thinking of his time. (2) Even though more than two thousand years have passed since Hannibal crossed those Alps, the elements of what it takes to be a successful leader have not changed. They are simple and obvious, or should be: motivating those who follow you to share your vision; inspiring through example; a sense of duty and responsibility to those who trust and depend on you; the capacity to see a problem and the skill to fix it; developing and maintaining a proper perspective on yourself in the face of success or adversity; setting and achieving goals; understanding people's limits and knowing when to drive hard and when to ease up on both subordinates and competitors.
The ancient Greeks tell us that nothing is more important than good leadership for the harmonious functioning of society and nothing hurts more than the lack of it. Our times cry out for leadership— political, financial, and even ethical. Many people are asking today, "Where have the good leaders gone?" In a recent New York Times column about global gridlock entitled "Missing Dean Acheson," David Brooks posed this question, noting that Americans are about to enter their nineteenth consecutive year of Truman envy. Ever since the Berlin Wall fell in 1989, Brooks observed, people have yearned for a return to a time when leaders such as Harry Truman and George C. Marshall were able to create successful, forward-looking global institutions and policies to confront the challenges that faced America at the end of the Second World War. Brooks asked, "Why can't we rally that same kind of international cooperation to solve our current economic crisis, confront terrorism, slow down global warming, limit nuclear proliferation, and a host of other pressing problems today?"
Ours is a complex and stressful time. We face the most serious financial crisis since the Great Depression of the 1930s and foreign policy issues that if left unsolved could bring us to the brink of nuclear war. Rising new powers in the world today, such as China and India, are changing traditional Western ways of conducting worldwide politics and business. Old powers such as Russia and the members of the relatively new Europe and Union are seeking to advance their influence in the international community. Responses to these developments require effective leadership. The financial crisis and America's recent foreign policy setbacks can be traced directly to a failure of leadership.
But where do we turn for leadership, and what do we want in our leaders? History is one place to look. The past is filled with leaders who possessed extraordinary capabilities, enjoyed tremendous success, and directed societies that experienced problems similar to our own. Their successes and failures as leaders can help us develop a valuable perspective as we grapple with our problems and try to prepare for the future. Similarities between those who ruled the empires of the ancient world and many of today's corporate and political leaders are remarkable. Times and circumstances may change, but the principles of sound leadership do not.

Adapted from
Power Ambition Glory
: The Stunning Parallels between Great Leaders of the Ancient World and Today . . . and the Lessons You Can Learn
by Steve Forbes and John Prevas. Based on an extraordinary collaboration between Steve Forbes, chairman, CEO, and editor in chief of Forbes Media, and classics professor John Prevas, Power Ambition Glory provides intriguing comparisons between six great leaders of the ancient world and contemporary business leaders.
* * *


Like us on
Instagram
and
Facebook
for additional leadership and personal development ideas.
* * *

Posted by Michael McKinney at 12:15 AM
Permalink | Comments (0) | This post is about Leaders