5 Leadership Lessons: Amp Your Team, Rock Your Business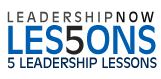 If you were alive in the 70s, you no doubt will remember the band
38 Special
(i.e.,
Caught Up in You
and
Hold on Loosely
). In
Jam!
by Jeff Carlisi, Dan Lipson and Jay Busbee,
38 Special
founding member Carlisi has culled the lessons in teamwork and leadership from his two decades with the band. Businesses and rock bands share a lot of the same issues. "Both require the right mix of marquee names and supporting cast. And both can suffer more from success than they can from failure."

  Whenever you find yourself part of a new team, Carlisi says you should be
asking yourself these questions
:
What's my role in this group?
What do I bring to the group that no one else can?
How am I contributing to (or detracting from) the success of the group?
How much responsibility will I have in keeping the group afloat?
Which of my teammates can I learn from, and what can I learn?

  Your career will take a downturn. There's no way around it. So prepare for that downturn by surrounding yourself with the smartest and most effective support team possible. They'll pick you up when your down and help you find a way out when you're lost.

  It's OK to be small but if you're got bigger dreams, you've got to understand what's necessary to achieve them. We knew we needed a change. We needed to stop following in the footsteps of our forefathers. Everything we were trying to do had already been done by people who were much, much better at it than we were. What's the point of trying to do something when you're only 50 or 75 percent as good as the best? Why not break out and be the best in your own field?


The criticism isn't the end product; improvement is.
All too often, criticism is its own end, giving someone a chance to vent frustrations without thinking of the long-term consequences or opportunities. But the idea with criticism is (or at least should be) helping to improve everyone's game so that the entire team is working at a higher level. "You were terrible!" is useless, damaging criticism. "You were terrible, but here's what you can do to improve" may not be the most effective approach, but it's at least got that component of advice. "This could be better, and here's how," is a less blaming, more constructive approach.

  Times change and tastes change with them. You've got to accept that fact going into any endeavor … so do everything you can to prepare for them.
Your work is a large chunk of your identity. And when it goes, a large chunk of your self goes with it.
There's no way to prevent that, but you can start searching around to make connections between what you've done before and what you could be doing next. Eventually something will click for you, and when it does, you'll find it every bit as rewarding as your previous career.
* * *
Related Interest:
Sex, Leadership And Rock N' Roll
: Leadership Lessons from the Academy of Rock
by Peter Cook Cook cites Sydney Pollack on authenticity:
You go to leadership school, and try to pitch your voice the same way that the boss did there, and have your office decorated the same way his is, and that's not real leadership. Real leadership probably has more to do with recognizing your own uniqueness than it does with identifying your similarities.
Posted by Michael McKinney at 10:38 PM
Permalink | Comments (0) | This post is about Five Lessons , Teamwork