Six Ways Companies Mismanage Risk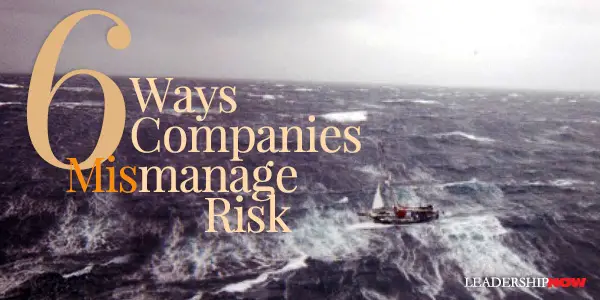 OHIO STATE University professor René Stulz writes in the Harvard Business Review, "Of course, financial institutions can suffer spectacular losses even when their risk management is first-rate. They are, after all, in the business of taking risks. When risk management does fail, however, it is in one of six basic ways, nearly all of them exemplified in the current crisis. Sometimes the problem lies with the data or measures that risk managers rely on. Sometimes it relates to how they identify and communicate the risks a company is exposed to. Financial risk management is hard to get right in the best of times." Obviously, risk assessment needs to be tempered with time-tested experience and calculated risks need to cast a wider net when calculated. In summary, here are his six paths to failure:
Too much reliance on historical data. It's only a partial guide to the future.
Reliance on narrow daily measures to reduce risk.
Knowable risks have been overlooked. A big picture approach is needed.
Concealed risks have been overlooked. Reward downside reporting. Unreported risks tend to expand. Sound familiar? (Read How to Know What You Don't Know)
Failure to communicate effectively. Need the ability to explain what is happening in clear, precise and most importantly, simple terms.
Risks not managed in real time. Essential for quick response.
* * *


Like us on
Instagram
and
Facebook
for additional leadership and personal development ideas.

Posted by Michael McKinney at 12:07 AM
Permalink | Comments (0) | This post is about Management , Problem Solving