Living Within the Lie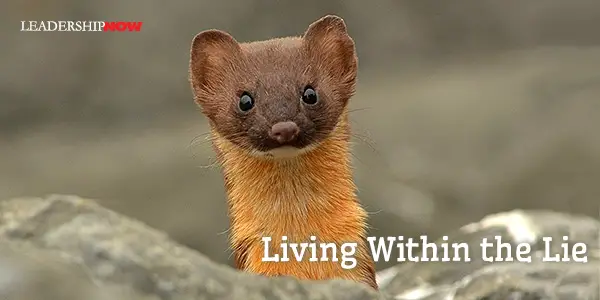 BRITISH economist John Kay wrote in the Financial Times about the power of words to send us off into the wrong direction. More specifically, weasel words. There are some good thoughts here. Here is an excerpt:
In western liberal democracies, no one exhibits slogans calling on the workers to unite. But you see similar displays in reception areas of businesses and even in government offices. They urge us to pursue excellence, to delight our customers, to be wholehearted in our embrace of change. Employees place these exhortations on desks and walls with the same resignation as the Czech greengrocer. The modern analogue of the address to the party congress is the business speech, in which tired clichés relentlessly follow each other, to similarly sycophantic applause.

The objective of the patronising drivel emitted by politicians and business people is to drive out argument. Engaged debate is replaced by what Jack Welch, the former General Electric chief executive, memorably characterized as "superficial congeniality". Apparent consensus is achieved by euphemism, by avoiding issues of substance, and by using slogans instead of analysis.

Mr. Welch saw that the opposite of superficial congeniality was "facing reality." But the effect, and intention, of the tacit compliance involved in superficial congeniality, is to entrench a reality of power: to legitimise authority based only on the occupation of positions of authority.

Living within the lie, because it does not face reality, is the process by which great organisations fall into catastrophic errors – and through which they often fail to recognise these errors even after their consequences have become apparent. The self-deception of living within the lie is how banks fell victim to the credit crunch and the US came to be embroiled in Iraq…. Dishonesty of speech quickly leads to dishonesty in behaviour because the language we use governs all we do.
* * *


Follow us on
Instagram
and
Twitter
for additional leadership and personal development ideas.
Posted by Michael McKinney at 09:33 AM
Permalink | Comments (0) | This post is about Communication , Thinking