The Age of the Empty Suit
In Peggy Noonan's weekend column in the
Wall Street Journal
, she delivers another fine essay,
Who We (Still) Are: A little perspective for the pessimistic "age of the empty suit
." She writes: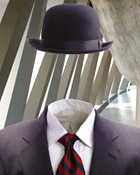 A sober observation came from a Manhattan woman who spoke, on the night Mr. Madoff was arrested, and as word spread through a Christmas party, of the general air of collapse in America right now, of the sense that our institutions are not and no longer can be trusted. She said, softly, 'It's the age of the empty suit.' Those who were supposed to be watching things, making the whole edifice run, keeping it up and operating, just somehow weren't there.

That's the big thing at the heart of the great collapse, a strong sense of absence. Who was in charge? Who was in authority? The biggest swindle in all financial history if the figure of $50 billion is to be believed, and nobody knew about it, supposedly, but the swindler himself. The government didn't notice, just as it didn't notice the prevalence of bad debts that would bring down America's great investment banks.

All this has hastened and added to the real decline in faith—the collapse in faith—the past few years in our institutions. Not only in Wall Street but in our entire economy, and in government.

An old friend in a position of some authority in Washington told me the other day, from out of nowhere, that a hard part of his job is that there's no one to talk to. I didn't understand at first. He's surrounded by people, his whole life is one long interaction. He explained that he doesn't have really thoughtful people to talk to in government, wise men, people taking the long view and going forth each day with a sense of deep time, and a sense of responsibility for the future. There's no one to go to for advice.
For several decades we have been systematically dismantling guideposts. This leads us to empty suits. When truth becomes whatever we want it to be, when all truth becomes opinion, when all opinions are equal, then the truth is nothing; it is a empty shell. Living on such a wide avenue is a road going nowhere.
Far too many people and organizations have been accomplices to the crisis we face. In accepting unwarranted short-term gains, we have distorted our role in this world. "Going forth each day with a sense of deep time" requires a truth outside ourselves and building on our inheritance with a mind to those to come after us. We are all soberly reminded of this now. Often it takes a crisis of jaw-dropping proportions for us to face these often inconvenient truths.
While we're at it, perhaps we also need to address the questions we're asking. Questions in search of magic pills will come up empty. It's time to face up to the hard work of filling the empty suit with substance.
Posted by Michael McKinney at 12:24 AM
Permalink | Comments (0) | This post is about Leadership