Geoleadership is Culturally Relevant Leadership
Kevin Kelly, CEO of Heidrick & Struggles, states in
The Secrets of CEOs
, "Attracting talent capable of accelerating national and regional businesses has been a tremendous challenge for CEOs for years; there's a very limited number of top-flight twenty-first-century leaders who are truly global in outlook and can take a global profit-and-loss account to another level. They're gold dust."

It is this critical need that Eileen S. Wibbeke addresses in
Global Business Leadership
. Globalization has placed greater demands on leaders than ever before. In times past, differences in cultures and thinking we have been able to hold at arms length. Today, it is estimated that 70% of global business ventures worldwide fail due to mismanagement of intercultural differences.
The need for leaders who are self-aware is critical for beginning to lead in a new context. Wibbeke writes that in addition to "extraordinary business leadership skills, a leader now needs cultural intelligence." She adds, "Learning about how other cultures both define and exert leadership is crucial in gaining and maintaining market share. The challenge is how to manage multiple, simultaneous cultural identities.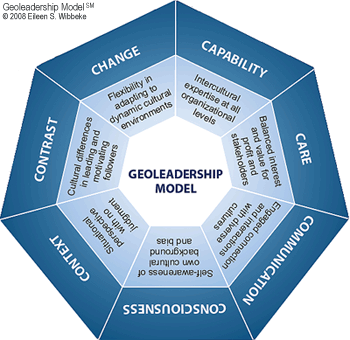 Wibbeke introduces the
Geoleadership Model
and considers how the concepts of care, communication, consciousness, change, and capability all vary around the world. Underlying the model is the principle of goodwill and perceiving the world through a perspective other than your own. Through case studies she demonstrates the use of the
Geoleadership Model
in various situations to develop an understanding and mastery of these vital intercultural competencies.
Wibbeke explains, "Learning how to interact in other cultures takes effort beyond just learning another culture's language. For the American business leader operating in another culture, interaction requires a deeper cultural understanding about how things are done. When people do not have a common frame of reference – as is found within a culture – misunderstandings, conflict, and productivity problems tend to arise." It is interesting to note that "task-oriented people tend to have more difficulty adjusting in an unfamiliar culture." You've got to pay attention to the soft-side of leadership too.
For more information go to Dr. Wibbeke's
web site
.
Posted by Michael McKinney at 02:13 AM
Permalink | Comments (0) | This post is about General Business