Weeding Out the Leaders We Need
In
Time
magazine this week,
Michael Kinsley
writes that we don't just need a good man in the White House this time, we need a great man. He thinks both candidates have the seeds of greatness, but "
unfortunately
"—and this is what caught my eye—"
our current political system seems designed to weed out precisely the qualities that are most needed at the moment.
"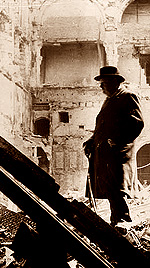 He suggests that at a time like this we need astringency, not empathy. Feeling our pain won't get it done. We need leaders willing to tell people what they don't want to hear. "It's not comforting people about their current situation and reassuring them it will get better. It's telling them that the situation is likely to get worse and that only their efforts can determine how soon it will start getting better. Astringent leadership is Churchill calling on Britons to 'brace ourselves to our duties.'" But he's right. Who wants to put that in the White House?
We vote for people that tell us that they will fix everything and not bother us. We vote for people that don't make us take responsibility—who can place the blame somewhere else—who will level the playing field at someone else's expense—smooth talk over straight talk. History teaches us that this always comes at a cost. It's problematic for both leaders and followers. Both get their roles wrong and both pay a price. Kinsley writes:
We have lucked out several times in our history when implausible characters showed unexpected greatness when it was needed: a country lawyer from Illinois, a spoiled patrician in a wheelchair, to name two obvious examples. Even more miraculous (though troublesome for democracy), both Lincoln and F.D.R. were elected by promising more or less the opposite of what they did in office. Lincoln said he'd preserve the institution of slavery. F.D.R. said he'd balance the federal budget.
Can we expect this fortuitous turn of events again?
Posted by Michael McKinney at 10:56 AM
Permalink | Comments (0) | This post is about Followership , Government , Leadership