Fixing the Financial Crisis Once and For All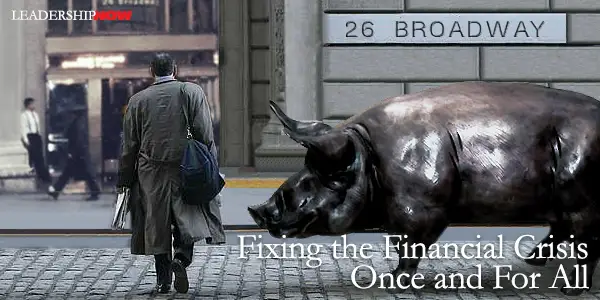 HOPING TO SOUND like leaders, Washington lawmakers want to get to the bottom of this financial crisis and create regulations to keep it from ever happening again. I don't think it comes as any surprise to anyone that greed—on the part of both borrowers and lenders—is at the bottom of it. You can't regulate greed out of existence. Regulation just improves creativity. Greed is regulated by character. Character is built at home, in our schools, in our churches, and yes, in our businesses.
No one likes to talk about character because it isn't a quick fix, it often goes against our inclinations, it's not immediately measurable, you can't take credit for it, and it's a time consuming, never-ending process. George Eliot wrote in Middlemarch: "Character is not cut in marble; it is not something solid and unalterable. It is something living and changing." It's built-in individuals day by day in little, almost imperceptible ways over the course of a lifetime. The problem is that we have only given a patronizing nod to character and politely moved on with the business at hand. How will I get mine if I don't play it like everyone else? We learn too late, without character, no one gets anything.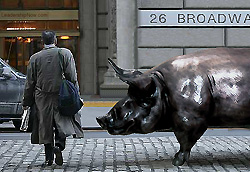 Character needs to be part of the very fiber of the organization. It must be a part of its philosophy and vision. I don't mean a statement of values we hang on the wall, but a
statement of behavior
beginning with the CEO on down. Tom Peters wrote in
Thriving on Chaos
that "
effective visions are beacons and controls when all else are up for grabs
….To turn the vision into a beacon, leaders at all levels must model behavior consistent with the vision at all times."
In July, Hugo Dixon opined in the Wall Street Journal, "Greed for higher returns entices investors to take risks; fear causes them to avoid excess. When markets are healthy, the two are finely balanced. Problems emerge when that balance is lost." You will find character behind this balancing act. Character stabilizes both people and markets. Character is inseparable from the culture in which it is formed.
Nothing will fix the financial crisis once and for all, but character will regulate it. Greed is a human issue and it will always be with us. It will always be something we need to train ourselves, our children, and our employees to regulate from within. The consequences can be devastating.
Apparently, Mr. Gekko, greed is not good. Lou Mannheim was right, "The main thing about money, Bud, is that it makes you do things you don't want to do." Or shouldn't do.
* * *


Like us on
Instagram
and
Facebook
for additional leadership and personal development ideas.
Posted by Michael McKinney at 11:04 AM
Permalink | Comments (0) | This post is about General Business , Government , Leaders , Personal Development