Bad Is Stronger Than Good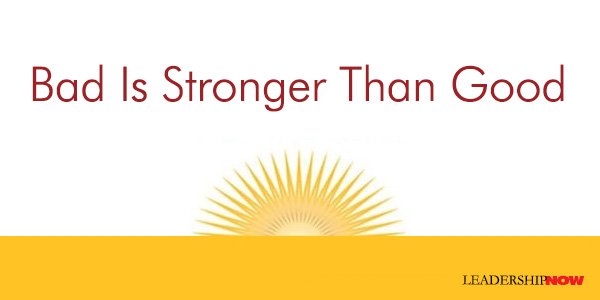 IN an article that appeared in the Review of General Psychology titled Bad Is Stronger Than Good (PDF), the authors—Baumeister, Bratslavsky, Finkenauer and Vohs—conclude that bad events have stronger and more lasting consequences than comparable good events. This is probably for good reason as "a person who ignores the possibility of a positive outcome may later experience significant regret at having missed an opportunity for pleasure or advancement, but nothing directly terrible is likely to result. In contrast, a person who ignores danger (the possibility of a bad outcome) even once may end up maimed or dead. Survival requires urgent attention to possible bad outcomes, but it is less urgent with regard to good ones. Hence, it would be adaptive to be psychologically designed to respond to bad more strongly than good." What does this mean to leaders?
"Consequently," writes Kim Cameron in Positive Leadership, "individuals in general—and especially leaders in organizations who are constantly confronted by problems, threats, and obstacles—have a tendency to focus on the negative much more than the positive." But leaders need to think differently. Cameron continues:
Positive leaders are unusual in that they choose to emphasize the uplifting and flourishing side of organizational life, even in the face of difficulty. It is not that they ignore the negative or adopt a Pollyannaish perspective, but they counter the tendency toward negativity with an abundance of positivity. In the absence of such emphasis, negative inclinations overwhelmed the positive and a negative climate is the default option.
Positive leadership requires thinking that goes contrary to our natural tendencies. It requires an intentional effort to encourage behaviors that enable a positive climate.
* * *


Like us on
Instagram
and
Facebook
for additional leadership and personal development ideas.
* * *


Posted by Michael McKinney at 03:44 PM
Permalink | Comments (0) | This post is about Positive Leadership