5 Leadership Lessons: Axiom: Powerful Leadership Proverbs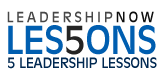 Bill Hybels
of
Willow Creek Community Church
, wrote
Axiom: Powerful Leadership Proverbs
with church leadership in mind. However, you will find pearls of wisdom that apply to any situation you find yourself in. That's the thing about good leadership principles. They are timeless and they can be applied in any context. Here are five of the 76 guiding principles that have shaped his leadership:

Values Need Heat:
When you heat up a value, you help people change states. Want to jolt people out of business as usual? Heat up innovation. Want to untangle confusion? Heat up clarity. Want to eradicate miserliness? Heat up generosity! New "states" elicit new attitudes, new aptitudes, and new actions. It's not rocket science. It's just plain chemistry. Which is a lot about heat….Over time, sufficiently hot values will utterly define your culture.

DNA Carriers:
Great leaders take the time to explain to their team what they feel deeply about—what issues they would take a bullet for and why. Then great leaders show their staff members how to live out that DNA. They appeal to the employee's desire to be part of something very cool and than make a hero out of each one who rises to the occasion. Sure, the final decision rests in the hands of the employee—"Will I or won't I live out all that it means to be part of this organization?"—but effective leaders challenge and inspire their staff to become bona fide DNA carriers.

No Eleventh-Hour Surprises Please:
One of the most harmful things a colleague can do to a leader is to toss an eleventh-hour surprise in his or her lap. Last-minute grenades ask an otherwise proactive person to become reactive, a well-paced problem solver to become a firefighter, and a long-term planner to focus all energies only on the next twenty-four hours. "I want an environment that helps keep blood pressure stable, the nuttiness quotient low, and fire drills and soap operas to a minimum.
Please
, no eleventh-hour surprises."


Speed of the Leader, Speed of the Team:
Leaders must never expect from others anything more than they are willing to deliver themselves. They should never expect higher levels of commitment, creativity, persistence, or patience than what they themselves manifest on a regular basis.

Pay Attention to Greetings and Goodbyes:
Everyone who works for a highly motivated leader carries with them a low-grade concern that that leader is going to use them and then toss them out. They worry that aside from getting the leader's agenda done, they're not at all necessary. Deep down, they simply want to know that they're more than just a cog in someone else's wheel. I make it a habit to do a personal, enthusiastic, genuine, warm, highly relational, look-you-in-the-eye greeting to every single person sitting around the table before I even think about starting the meeting.
Posted by Michael McKinney at 06:24 AM
Permalink | Comments (0) | This post is about Books , Five Lessons