Learning Requires Personal Responsibility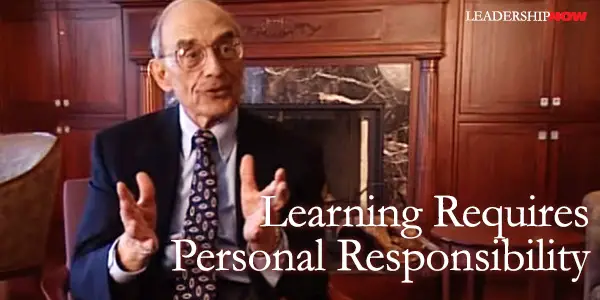 T
HE Harvard Business Press is publishing some of the classic articles from past issues of the
Harvard Business Review
in handy pocket-size book form. This month they are releasing
Teaching Smart People How to Learn
by Chris Argyris. It first appeared in the May-June 1991 issue. In it he tells us that "success in the marketplace increasingly depends on learning, yet most people don't know how to learn." Worse still is the fact that those we assume to be the best at learning – knowledge workers – are not very good at it.
True learning, what Argyris calls double-loop learning, requires that we be open to criticism. Most of what passes for learning is, according to Argyris, single-loop learning. Single-loop learning is, problem solving. That is to say, working on problems in the external environment – behaviors and tactics. This is really nothing more than fixing symptoms. Instead, workers need to "reflect critically on their own behavior, identify the ways they often inadvertently contribute to the organization's problems, and then change how they act." It is looking at "why we do what we do." It is rethinking the assumptions behind why we do what we do.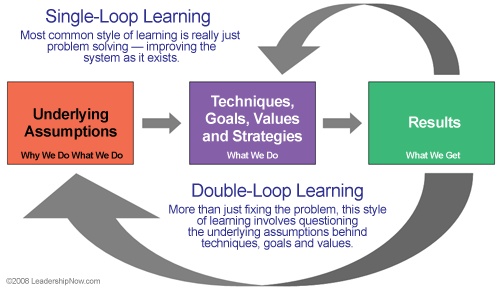 Argyris describes single and double-loop learning using this analogy: a thermostat that automatically turns on the heat whenever the temperature in a room drops below 68 degrees is a good example of single-loop learning. A thermostat that could ask, ''Why am I set at 68 degrees?'' and then explore whether or not some other temperature might more economically achieve the goal of heating the room would be engaging in double-loop learning.
The ideas Argyris lays out in this article are truer today than when he wrote it. Knowledge workers must by the nature of their work, put themselves – their identity - out there in the workplace. This makes them more vulnerable and more likely to become defensive when they are shown to be responsible, to some degree, with a problem. Double-loop learning requires taking personal responsibility and a willingness to challenge what one is doing. Know Thyself begins to take on a new dimension.
* * *


Follow us on
Instagram
and
Twitter
for additional leadership and personal development ideas.
* * *


Posted by Michael McKinney at 09:23 PM
Permalink | Comments (0) | This post is about Learning , Problem Solving