Fortune: The Best Advice I Ever Got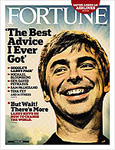 Fortune
magazine asked 19 people for the best advice that most influenced their lives. Here are several excepts from that feature:
General David Petraeus
: Commanding general, multinational force – Iraq
The bottom line is that seriously bright folks thought very differently about important issues, and the debates on various topics were wonderful. All in all, in fact, the experience was invaluable. It may sound trite, but experiencing that not everyone saw the world at all remotely the same was good preparation for many of the experiences I've had since then.
Indra Nooyi
: Chairman and CEO, Pepsico
Whatever anybody says or does, assume positive intent. You will be amazed at how your whole approach to a person or problem becomes very different. When you assume negative intent, you're angry. If you take away that anger and assume positive intent, you will be amazed. Your emotional quotient goes up because you are no longer almost random in your response. You don't get defensive. You don't scream. You are trying to understand and listen because at your basic core you are saying, "Maybe they are saying something to me that I'm not hearing." So "assume positive intent" has been a huge piece of advice for me.
Sam Palmisano
: Chairman and CEO, IBM
I've noticed that some of the most effective leaders don't make themselves the center of attention. They are respectful. They listen. This is an appealing personal quality, but it's also an effective leadership attribute. Their selflessness makes the people around them comfortable. People open up, speak up, contribute. They give those leaders their very best.
Tony Robbins
: Performance coach
Jim Rohn, a personal-development speaker, said, 'Tony, think about it this way. If your worst enemy drops sugar in your coffee, what's going to happen to you? Nothing. But what if your best friend drops strychnine in your coffee? You're dead. You have to stand guard at the door of your mind."
What's the best advice you ever got?
Posted by Michael McKinney at 12:23 AM
Permalink | Comments (0) | This post is about Personal Development