Change the Way You See Yourself

The authors that brought you
Change the Way You See Everything
have taken the principles of asset-based thinking and applied them more specifically to you – the individual – in
Change the Way You See Yourself
. Like its predecessor, this book too is a feast for the eyes. I enjoy the graphics, but the message they convey is vital to your personal development.
Asset-based thinking is a way of looking at yourself that emphasizes what is working in your life and the strengths you possess. It is a way of freeing yourself from negative and unproductive thinking. It allows you to focus on what you can do and not what you can't do (as often seems to be our default mode of thinking). They write that with asset-based thinking, "you use surprise, serendipity, and even setbacks to make the journey more interesting and more worthwhile. You are more confident in who you are, where you are going, and how to get there."
In the section on power they invite us to look at it in a new way. Authors Kathryn Cramer and Hank Wasiak write:
When it comes to power, most people think of accumulating material wealth, status, authority, knowledge, and expertise. These are potent external sources of power. AS such, they provide you with control over a vast array of resources – from money, to land, to market share, to intellectual property. While building large reservoirs of external power may be useful, it is not enough for getting results. There is another source of power equally important and often more vital to your leadership and success.

Instead of relying primarily on external power sources to fuel your progress, look deeply inside for what can move you forward. You have a huge reservoir of internally generated power just waiting to be tapped. Internal sources of power derive from who you are – not what you have. Your internal power is defined by your Signature Presence – your unique combination of passions, capabilities, qualities, values, and beliefs. Signature Presence power gives you what it takes to get results when externally derived power is not enough.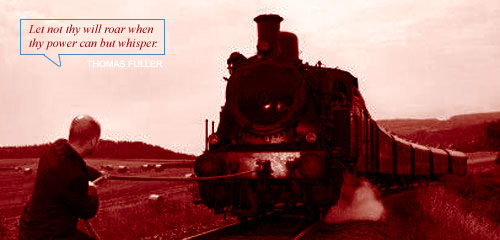 Leadership sage Warren Bennis once said, "A point of view is worth 50 IQ points." He knew That when you live by the power of your convictions you stand taller, sit straighter, and speak more confidently. You raise the level of your game. Others know you as a "force of nature" – someone who will not be deterred and who doesn't give up.

People crave clarity … your voice rings clear when you stand for something.
People want wisdom … your mind creates meaning when you stand for something.
People gravitate toward hope … your ideas and promises hold sway when you stand for something.
Related Reading:

Asset-Based Thinking
Posted by Michael McKinney at 10:40 AM
Permalink | Comments (0) | This post is about Books , Leadership , Personal Development