Making the Impossible Possible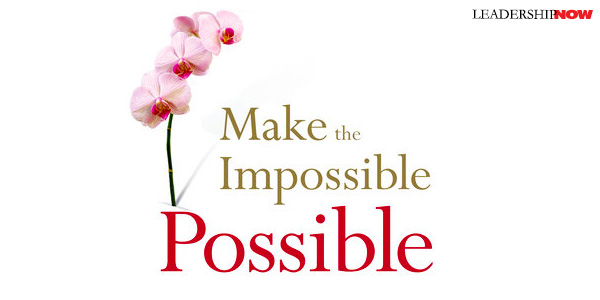 SAMUEL JOHNSON once wrote, "The natural flights of the human mind are not from pleasure to pleasure, but from hope to hope." This statement seems to define Bill Strickland's life. Make the Impossible Possible is an engaging, inspirational book written with humility and passion.
Bill Strickland's life changed when as a boy in a Pittsburgh ghetto, a teacher took the time to show him that he mattered and allowed him to see himself in a new way. (An integral part of any leader's job.) As a result, he became open to opportunities and created at 19 what became the Manchester-Bidwell Center, the now famous arts-education and job-training center for disadvantaged kids and adults. This extraordinary school was built on Strickland's belief that "all of us have the potential to make our dreams come true, and that one of the greatest obstacles blocking us from realizing that potential is that we believe, or are told, that things we want most passionately are impractical, unrealistic, or somehow beyond our reach." He convincingly demonstrates his belief that:
Each one of us, no matter who our parents are, where we live, how much education we have, or what kinds of connections, abilities, and opportunities life may have offered us, has the potential to shape our lives in ways that will bring us the meaning, purpose, and success we long for….I want everyone who comes to this book, no matter what their age or accomplishments or the circumstances of their lives, to rethink their assumptions about what is and isn't possible in their lives, and to convince themselves that they have not only the right but also the responsibility, and the capacity, to dream big and to make those dreams come true.
Strickland narrates his successes and failures, obstacles and opportunities, his thinking and rethinking, as he went about to create the success he has achieved. It's a fascinating story. While he has dedicated his life to helping other people, he denies the do-gooder label. He writes, "I didn't do any of it out of selflessness. I did it to be myself. I did it to enrich my own life, to deepen the quality and meaning of my own experience. I did it because it was a part of what I had to do if I genuinely wanted to be me."
How often have we been burdened by self-defeating assumptions? Strickland writes that "once we accept the idea that poverty is, essentially, the acceptance of meager possibility, we can't deny that all of us are in some fashion poor. We all suffer some form of poverty—poverty of imagination, or courage, or vision, or will. We allow ourselves to be limited by our fears—fear of failure, fear of change, fear of being criticized or of looking like a fool."
This isn't another see-what-I-did self-help book. It's a book that invites introspection. Read it and learn from his experience and thinking.
* * *


Like us on
Instagram
and
Facebook
for additional leadership and personal development ideas.
* * *


Posted by Michael McKinney at 02:41 PM
Permalink | Comments (0) | This post is about Books , Personal Development