Miles' Law and Six Other Maxims of Management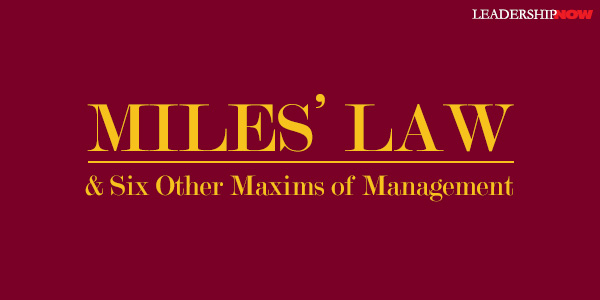 Rufus E. Miles, Jr. (1910-1996) was an assistant secretary under Presidents Dwight D. Eisenhower, John F. Kennedy and Lyndon B. Johnson and six H.E.W. secretaries. He developed from "memorable encounters with reality," Miles' Law and Six Other Maxims of Management. The law states: Where you stand depends on where you sit. He codified that which we should know intuitively. We see things and form judgments of things from our own perspective. We need to discipline ourselves to see things from other's vantage point. To his law, he added six maxims:
• Maxim 1: The responsibility of every manager exceeds his authority, and if he tries to increase his authority to equal his responsibility, he is likely to diminish both.
• Maxim 2: Managers at any level think they can make better decisions than either their superiors or their subordinates; most managers, therefore, seek maximum delegations from their superiors and make minimum delegations to their subordinates.
• Maxim 3: Serving more than one master is neither improper nor unusually difficult if the servant can get a prompt resolution when the masters disagree.
• Maxim 4: Since managers are usually better talkers than listeners, subordinates need courage and tenacity to make their bosses hear what they do not want to hear.
• Maxim 5: Being two-faced—one face for superiors and one for subordinates—is not a vice but a virtue for a program manager if he or she presents his or her two faces open and candidly.
• Maxim 6: Dissatisfaction with services tends to rise rapidly when the provider of the services becomes bureaucratically bigger, more remote, and less flexible, even if costs are somewhat lower.
These laws were originally published in September 1978. "The Origin and Meaning of Miles' Law," Public Administration Review, September – October 1978. Miles wrote that the "concept is probably as old as Plato, but this particular phraseology arose in the Bureau of the Budget as a result of events that occurred in late 1948 and early 1949."
* * *


Like us on
Instagram
and
Facebook
for additional leadership and personal development ideas.
Posted by Michael McKinney at 07:22 AM
Permalink | Comments (0) | This post is about Management