5 Leadership Lessons: What is Your Intention?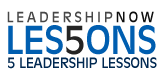 Our intentions—our attitude going in—has a profound affect on the results we get and the stress we experience along the way. Our intentions affect what we do, what we say and how we say it and how we come across in the process. Greg Hicks of Foster, Hicks and Associates and author of
LeaderShock
, writes that we are so in the grip of LeaderShock—overwhelmed, overloaded and overstressed—that we find ourselves so busy
doing
that we don't take time to
choose
our attitude. We end up allowing it to control us rather than the reverse. "Because attitude animates your actions, once your attitude is set you're in the best position to decide what behavior is going to work best." Here are five leadership lessons on Intention from
LeaderShock
:

When we don't assertively set our Intentions, we passively or unconsciously choose something else. Our outcomes are haphazard, and we become hostage to people and events that lead us astray. Intention adds directionality and power to human endeavor.

Choosing your day isn't about denying problems, sugarcoating them, or guaranteeing specific results. It's about intensifying your focus on that which is uplifting and self affirming.

The Rigidity Trap is everywhere. By locking into rigid assumptions we rarely achieve what we want. Chaos is not the opposite of rigidity. Healthy flexibility is where you want to be, inviting unexpected options and discovering new possibilities before making any final decision. If life is indeed a journey, we as leaders would be wise to pay more attention to the odyssey and less to the final destination toward which we're headed.

When we find ourselves merely trying to survive the pressures created by limited time, money, and people resources, we tend to take as much as we can. This survival mentality eventually isolates us from a community that could otherwise provide us with everything we want.

When we see feedback as negative, or give all our power to the person giving the feedback, we set ourselves up for a long, hard fall. Our Intention should be to see feedback as nothing more than new information; never as an attack.
Posted by Michael McKinney at 03:10 PM
Permalink | Comments (0) | This post is about Five Lessons