5 Leadership Lessons: Inside Welch's Communication Revolution at GE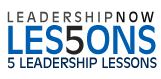 Bill Lane joined GE as a speechwriter in 1980, and became the Manager, Executive Communications for the Company, and Jack Welch's speechwriter. In his book
Jacked Up: Inside Welch's Communication Revolution at GE
, he tells stories from his experiences with Jack Welch and other key players, with the candor that Welch prized above all.

  The vanity of communications is about never – ever – allowing anything but your best face, and that of your organization, to ever,
ever
, appear in front of your constituencies or your employees or your mates.

  I fell prey to a typical attitudinal conceit, a root cause of presentation disasters: the belief that what you think is so important is also considered to be so by the audience. The best presentations I've done in my life are ones about which people I respected came up and said: "It was great, but it was too short. I wanted to hear more." All first draft presentations are too long and should be cut. Second, third, and forth drafts should be cut further.

  Never, ever, make a presentation you do not feel is excellent—a home run. If you don't spring up to the podium because you can't wait to do it, something is probably wrong.

  The domination or orchestration of company meetings may sound like the machinations of a control freak, a meddler, an autocrat, or dictator. That is precisely what I am describing; but it also the picture of a leader, and how a leader can capture ownership of his key meetings and his organizational communications, virtually overnight. These meetings were Jack's megaphone, and everybody knew it. Do the people who attend your key meetings know whose thoughts a views they are hearing?

  [Jack] would tune out, and write-off, people who made presentations that had an air of "going through the motions" or "reporting" rather than passionately advocating some course or other.

He loved the latter even if he disagreed with the course being suggested. Any presentation that does not give the people in the audience something they can take out the door with them and use is a failure and a waste of their time. The question always in your mind must not be, "Do I care about this?" But, "Will they care about this?"; "Should they care about this?" Don't walk out there and bore people.
Lane asks: "What jobs are you disqualifying yourself from because of poor presentation skills? These efforts are fairly easy to acquire, and involve the architecture and effort in the presentation itself, rather than theatrics and what color dress you wear."
Posted by Michael McKinney at 09:24 AM
Permalink | Comments (0) | TrackBacks (1) | This post is about Communication , Five Lessons