Qualities of Leadership Found in Wordsworth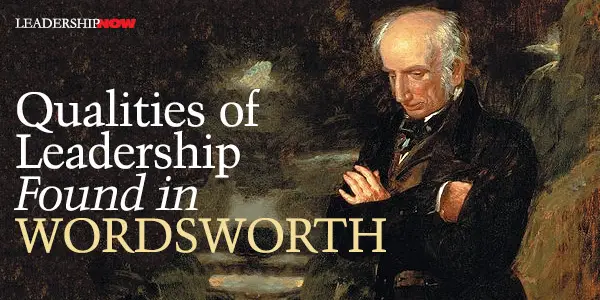 E
NGLISH poet,
William Wordsworth
(1770-1850) wrote in the 1815 edition of his works, what has become a famous preface simply entitled,
Preface to Poems
. He begins by listing the six "powers requisite for the production of poetry." Interestingly enough, they make a good list of qualities relating to the practice of leadership.
First is
Observation and Description
. That is "the ability to observe with accuracy things as they are in themselves, and with fidelity to describe them." Also, to see reality "unmodified by any passion or feeling existing in the mind of the describer."
Second is
Sensibility
. The more refined our senses are, "the wider will be the range" of our perceptions" and "the more will he be incited to observe objects, both as they exist in themselves and as re-acted upon by his own mind."
Third is
Reflection
. This quality makes the leader "acquainted with the value of actions, images, thoughts, and feelings; and assists the sensibility in perceiving their connection with each other."
Fourth is
Imagination and Fancy
. This is the ability "to modify, to create, and to associate."
Fifth is
Invention
. A quality by which a plan is made "composed out of materials supplied by observation" and are "most fitted to do justice" to the vision.
And finally,
Judgment
. That is "to decide how and where, and in what degree, each of these faculties ought to be exerted; so that the less shall not be sacrificed to the greater; nor the greater, slighting the less, arrogate, to its own injury, more than its due."
* * *


Like us on
Instagram
and
Facebook
for additional leadership and personal development ideas.
Posted by Michael McKinney at 10:34 AM
Permalink | Comments (0) | This post is about Leadership Development