James Kilts on Developing People
In
Doing What Matters
, James Kilts, former chairman and CEO of Gillette Company, shares a story about developing people: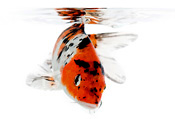 One of the most important responsibilities of a leader is to create the right environment and then give the employees development opportunities that enable them to realize their full potential. I like to use an analogy that I heard some years ago of the Japanese carp, known as the koi, to make the point.
The fascinating thing about the koi is that if you keep it in a small fish bowl, it will grow to be only about two to three inches long. Place the koi in a larger tank or small pond and it will reach six to ten inches. Put it in a large pond, and it may get as long as a foot and a half. However, if you put it in a huge lake where it can really stretch out, it has the potential to reach sizes up to three feet.
People, like the koi, will grow to the dimensions of their boundaries. Fortunately, unlike koi, we have the advantage of helping our people select their boundaries. And it is the leader's job to set the kind of boundaries that allow people to reach their full potential.
Posted by Michael McKinney at 12:26 AM
Permalink | Comments (0) | Management