The Consultant's Tightrope: Knowledge-Innovators vs. Knowledge-Brokers
The British Economic and Social Research Council
released a study
led by Professor Andrew Sturdy, of Warwick Business School at the University of Warwick in the UK on
The Evolution of Business Knowledge
. Contrary to popular belief, the study concluded that, "management consultants are, like their immediate clients, more 'knowledge brokers' than innovators. Both groups are often more concerned with managing projects and getting the job done."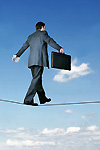 Professor Sturdy said: "
The image of consultants as experts - the shock troops of the latest approach to management - doesn't match their day-to-day work with clients in projects.
"Typically, they are seen as outsiders, bringing ideas and organizational techniques which are new to their clients. But in reality, we found that prospective clients were unlikely to welcome consultants if their knowledge was 'too new'."
Perhaps this isn't too surprising since consultants are themselves operating a business and must please the client as well. Sturdy explains: "the study findings suggest that consultants walk a tightrope between offering what might be seen as either a 'helpful' challenge or an unconstructive interference.
So whilst clients were generally happy to be challenged, this was only if the consultant did so sensitively, showing a good understanding of the business.
"Consultants also needed to earn the respect of staff at all levels in the organization - something best achieved by demonstrating intelligence, commitment and willingness to engage with its problems, and respecting the knowledge of its employees.
Professor Sturdy said: "The real outsiders then, are those people not directly involved in the project team, often including the most senior management and the rest of the client organization.
"This is important, as it means that consultants are not as innovative or different as is often thought. But this can help in
their role as knowledge-brokers
. The main barriers then become the initial selling process, and later the implementation; typically still the preserve of managers more than consultants."
Posted by Michael McKinney at 02:02 PM
Permalink | Comments (0) | This post is about Management