JFK's Leadership Style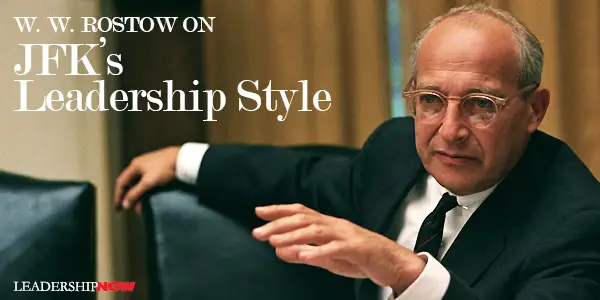 A
S WE HAVE discussed before, the idea of the great leader as sole player is flawed. The point leader can't do it alone. It takes many leaders to support the point leader. John F. Kennedy is said to have wondered how a man could conceive of seeking the job of the president when the problems were obviously bigger than mortal man should have to handle. It can only be done through people in an environment where they can do their best. Good relationships are vital to the success of any leader.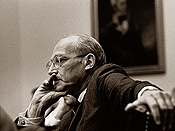 The late W. W. Rostow served as Deputy National Security Advisor to Kennedy. His observations of Kennedy's leadership style are instructive:
It did not fit the hierarchical pyramids to be found in textbooks on administration: it was like the spokes of a wheel. When he formed a bond it remained firm. His enormous energy permitted him to deal with a great many people on a bilateral basis, weaving their efforts into his tasks as he saw them. His method was that of the extended family. He put each member to work in ways that could help, according to his talents.

It was rooted in an assessment of human beings that was both affectionate and hard-minded. He actively enjoyed the variety of talents and personalities that assembled around him as the drive for the presidency gathered momentum. He respected each man for what he was. There was reliability in his acceptance of men to work with him. There was also a firm assessment of where each might be useful and where not.
Kennedy was able to create an environment without too many layers that fostered more open communication. At the same time, this requires thoroughness on the part of the leader so as to be certain that each task is covered by a capable person, while coordinating and leading in a way that doesn't become dictatorial.
* * *


Like us on
Instagram
and
Facebook
for additional leadership and personal development ideas.
Posted by Michael McKinney at 01:12 AM
Permalink | Comments (0) | This post is about Leaders , Management