Charles Koch on Decision Making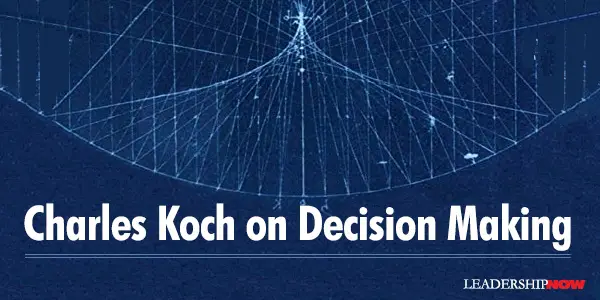 CHARLES KOCH finally published the ideas he applied and named Market-Based Management (MBM) in his book The Science of Success. While there is no such thing as the science of success (it is a comforting idea), this book presents a lot of ideas that are worth taking a look at for possible application elsewhere. I did appreciate his viewpoint on decision making:
Proximity to a problem or process does not determine who is in the best position to make a decision. In a world characterized by knowledge-driven rapid change, top-down decision-making is commonly criticized as being highly inefficient. It is true that centralized command-and-control business management suffers from many of the same problems seen in centrally planned economies. Those with local knowledge are often in a better position to solve the problem at hand. The ideas and creative energy of all employees should be leveraged, but universally decentralized decision-making has its own problems. Some decisions, if made at the local level, can be unprofitable because a broader perspective is required.

The mindless application of either approach—universally centralized or completely decentralized decision rights—is not the answer. For example, decisions about how to gain optimum throughput from a refinery at any given time probably are best made by people on site. On the other hand, people further removed, but with broader knowledge, may be better positioned to make a decision on what the most profitable product mix will be in five years. Decisions should be made by those with the best knowledge, taking comparative advantage into account.
* * *


Follow us on
Instagram
and
Twitter
for additional leadership and personal development ideas.
* * *

Posted by Michael McKinney at 01:43 AM
Permalink | Comments (0) | This post is about Problem Solving