5 Leadership Lessons: Getting Unstuck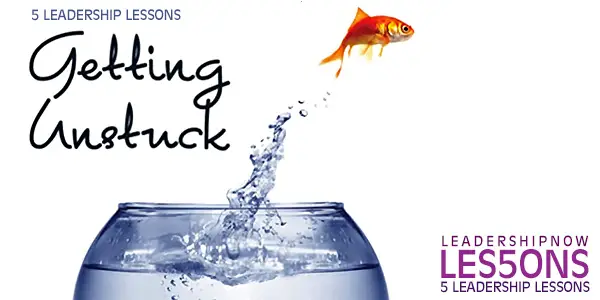 Getting Unstuck: How Dead Ends Become New Paths by Timothy Butler is an interesting look at a chronic human problem: not being able to see the forest for the trees. There are times when we get stuck and find ourselves stewing in our own juices.
Our stuck feeling comes from our inability to get our thinking moving again. Sometimes we get hit so hard that it is hard to get our mind off of the point of impact and instead focus on our response. The decision to get on with it frees us to rally our resources and broaden our repertoire of responses. We will, with the proper outlook, grow to a higher capacity to handle the next crisis that life throws at us.
Bulter offers these thoughts:

  "When we are at am impasse, we often cannot even sense this flow [the connection we feel to the energy in our life] — or to see how close we are to a dynamic dislodging that would place us back into the energy of the moving current….When we have run aground, we sometimes fail to realize that this is a necessary crisis; without it we cannot grow, change, and — eventually — live more fully in a larger world."

  "Self-images often seem to have lives of their own, separate from our daily reality, and they exert a powerful presence that affects decisions and distorts perceptions. These distortions lead us away from the ability to pursue the work and the relationship that hold the greatest promise for fulfillment." These self-images keep us suck.

  "The problem with any mental model is that it is always operating on information from the past. In contrast, true vision is never an arrangement or rearrangement of solutions that have worked in previous circumstances, but springs from the immediacy of today….Life is always breaking our mental model…A life shock momentarily awakens something in us, and for a moment we are fully alive, with no model at all. We all want this, to be touched directly by life itself."

  "When we are at an impasse, we need new information, especially information about what is missing rather than a summary of what is already there."

  Getting unstuck ultimately comes down to a choice. Our lives do not change without action. "The only way forward is to bring our whole person into the tension of the choice. The temptation when experiencing the tensions of a difficult choice is to seek a quick compromise, to find some middle ground that seems to offer some of the best of the conflicting pole. This rarely works and rarely satisfies."

Butler offers some practical ways to get ourselves thinking again through practicing
free attention
and some healthy ways of looking at crisis in our life. His
One Hundred Jobs Exercise
presented in this book, is aimed at helping us to reexamine our outmoded mental models and identify essential work and life themes that will bring us back to
our
place (authentic) where we can offer
our
contribution.
* * *


Like us on
Instagram
and
Facebook
for additional leadership and personal development ideas.
* * *

Posted by Michael McKinney at 09:06 AM
Permalink | Comments (0) | This post is about Books , Change , Five Lessons