Getting Unstuck
: How Dead Ends Become New Paths
Timothy Butler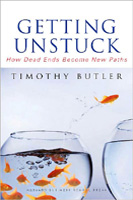 Format:
Hardcover, 204pp.
ISBN:
9781422102251
Publisher:
Harvard Business School Press
Pub. Date:
March 14, 2007
Average Customer Review:

For Bulk Orders Call: 626-441-2024

Description and Reviews
From
The Publisher:
Everyone feels stuck every now and again, paralyzed by the gnawing feeling that something must change – whether in one's work or work environment, or in a life situation or way of living. But when is this feeling an indication of major psychological impasse? And when will this failure to get "unstuck" threaten not only your personal life and career, but even the healthy functioning of the rest of your team or organization? What are the steps to navigate out of this kind of rut and find a meaningful way forward?
In
Getting Unstuck
, psychologist Timothy Butler shares a proven model for moving from a state of career or life impasse to a new vision based on deeper knowledge of the work and life structures that will ultimately be most meaningful. Outlining a process that he has used with thousands of executives and MBA students, Butler explains how to recognize a state of psychological impasse and shows that this state is in fact the beginning of a necessary and predictable process of psychological development that is repeated many times throughout one's life. Further, he shows how to turn impasse into a vision of meaning and purpose, first by awakening and deepening one's imagination, then by recognizing patterns of meaning in one's life, and finally, by taking action to turn one's meaningful vision into a daily reality.
Supported by a wide range of stories of others who have accomplished similar life transitions, this book is written for anyone who feels stuck and is looking for practical and authoritative guidance for moving out of his or her own immediate impasse.

Reviews
"I began reading Getting Unstuck with my HBS Admissions Director hat firmly in place—thinking of the many people I meet each year who seem to have unlimited opportunities but little practice in making authentic choices. I was feeling quite the detached professional until I encountered one of the profiles and recognized myself, of all people. Who knew? I discovered that 'stuck' doesn't mean paralyzed and 'unstuck' is not limited to dramatic gestures. This is a very hopeful book, which I will keep prominently displayed on my bookshelf to provoke the curiosity of aspiring MBAs."
—Deirdre Leopold, Director of Admissions, Harvard Business School
"All of us hit dead ends in our careers and, all too often, in our lives. In Getting Unstuck, Timothy Butler provides dozens of powerful career and decision-making concepts and tools that guide the reader from personal impasse to understanding and then to committed action. Drawn from years of counseling and teaching experience as well as vital research, Getting Unstuck is essential reading for those who choose to thrive in their most important endeavors."
—Edward Betof, Vice President, Talent Management and Chief Learning Officer, Becton, Dickinson and Company
"His case studies, exercises, and advice will give job seekers, career coaches, and others the tools to move forward."
—Roxanne Hori, Assistant Dean and Director, Kellogg Career Management Center


Reader's Index
Send us your favorite quotes or passages from this book
.
• "Self-images often seem to have lives of their own, separate from our daily reality, and they exert a powerful presence that affects decisions and distorts perceptions. These distortions lead us away from the ability to pursue the work and the relationship that hold the greatest promise for fulfillment." Pg. 17

About the Author
Dr. Timothy Butler
is Senior Fellow of Business Administration and Director of Career Development Programs at the Harvard Business School. He has worked as a psychologist, psychotherapist, and career counselor for over twenty-five years. He is also a principal and co-founder of Peregrine Partners, a consulting company in Brookline, Massachusetts that focuses on career development, life transition counseling, and using career development for competitive advantage within organizations.

Table of Contents
Introduction
xiii
Part I: Impasse
1
Facing Crisis
3
2
Feeling Stuck and Doubting Ourselves
15
3
Opening Up and Letting Go
39
4
Shifting to a New Understandin
49
Part II: Vision
5
Our Deepest Interests: The First Pattern in the Carpet
81
6
Learning to Let Our Passions Guide Us
101
7
Power, People, Achievement: Three Interwoven Patterns
117
8
Mapping Our Insights: Patterns in the Sand
137
Part III : Getting Unstuck
9
Moving From Impasse to Action
157
10
Living at the Border
167
Appendices

A. Continuing the Journey: An Annotated Bibliography
B. Dealing with Depression
C. Finding the Right Work Culture
D. Scoring the One Hundred Jobs Exercise
E. Chapter Notes

Find Items On Similar Subjects

Go Put Your Strengths to Work
: 6 Powerful Steps to Achieve Outstanding Performance