The Art of Communication
In
Communication Arts
, designer and communications strategist
Cheryl Heller
asks if there has "ever been a better time to ponder the art of communication? Or a time when the fate of life as we know it hangs on our ability not only to communicate but to actually understand each other?"
She observes that all of us are communicating but wonders what it is we are not talking about that we should. T.S. Eliot asked, "Where is the wisdom we have lost in knowledge? Where is the knowledge we have lost in information?" Communicators should be about helping people to process all the banter they experience into meaningful thought. That activity, often referred to as the four levels of learning—a progression moving from raw data to information, to knowledge and finally to wisdom—is not always an easy one. There are many things that conspire to keep us from getting there.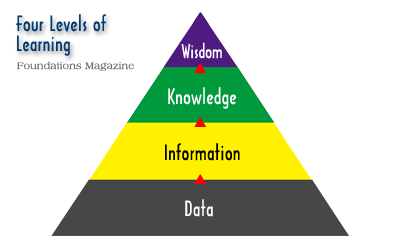 Heller asks, "How can we get people's attention and begin to tell the truth? How can we
learn to listen differently
so that we know what the truth is?" A couple of key questions. Overcoming our own biases, preconceived ideas and faulty thinking make that all the more difficult.
Heller offers some ideas. Two of the most important are, first, having the courage to say less. "
This is the opportunity to evolve from being paid for how much you can do to being paid for how well you think.
" Secondly, and frankly the most crucial, is
making time to think
. She suggests, "Pay quality attention to the things that matter, and give our brains some time to digest." Make the time.
More on developing wisdom:

Where Is the Wisdom We Have Lost in Knowledge?

Wisdom: The Interval Between the Notes
Posted by Michael McKinney at 08:47 AM
Permalink | Comments (0) | This post is about Communication