Goldsmith's Gold: Stop Trying to Help People Who Don't Want to Change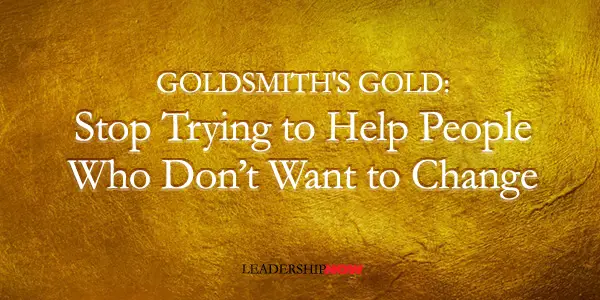 YOU can help some of the people some of the time, but you can't help all the people all the time. Not everyone wants help. Not everyone wants to change. Some people can't or won't be lead. It's a fact of life. Marshall explains, "This may sound harsh, but some people are unsalvageable. You're only banging your head against a wall if you think you can fix them." Some flaws can't be coached away by any boss, especially if the following conditions exist:

Stop trying to change people who don't think they have a problem.
Stop trying to change people who are pursuing the wrong strategy for the organization. If they're going the wrong direction, all you do is help them get there faster.
Stop trying to change people who should not be in their job. Move them on.
Stop trying to help people who think everyone else is the problem. People like this will never give up on their near-religious belief that any failure is someone else's fault.

More importantly, we need to be sure we are not deluding ourselves into being one of these people. Always be looking to change, grow and improve. Ask. Others are sure to point the way.
This is adapted from What Got You Here Won't Get You There by Marshall Goldsmith.
* * *


Follow us on
Instagram
and
Twitter
for additional leadership and personal development ideas.
* * *


Posted by Michael McKinney at 07:59 AM
Permalink | Comments (0) | TrackBacks (1) | This post is about Leadership , Personal Development