Sir John Harvey-Jones on Change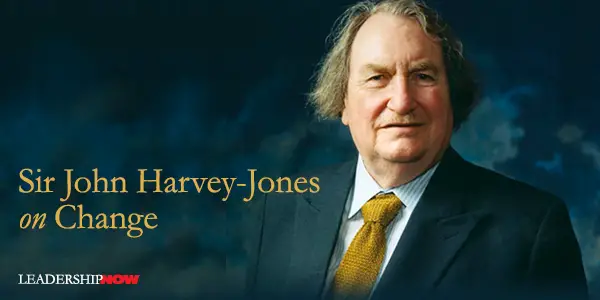 THE late John Harvey-Jones became the legendary Chairman of Imperial Chemical Industries (ICI) in 1982 and was knighted in 1985. His leadership has made him one of the most admired business leaders in the world. In his memoirs he wrote the following on change:
"The reality of change is inescapable. If we do not change the inexorable forces of economics [then] shifts in the external world will force a change upon us. One might say, under such circumstances, how much better to change before we are changed. But in real life this historical perspective is very difficult to appreciate, and we find most change uncomfortable. We cling to sets of values and conditions which we recognize and which are undemanding of our own commitment and effort. It is a fool's paradise, just as much as the hope that somehow one can get away from civilization, or that one can put the clock back. One cannot, and indeed one should not, because while it is foolish to throw away the past, it is the future that we can affect. The ability to create and manage the future in the way that we wish is what differentiates the good manager from the bad."
* * *


Like us on
Instagram
and
Facebook
for additional leadership and personal development ideas.
* * *

Posted by Michael McKinney at 07:30 AM
Permalink | Comments (0) | TrackBacks (1) | This post is about Change