Teaching Leadership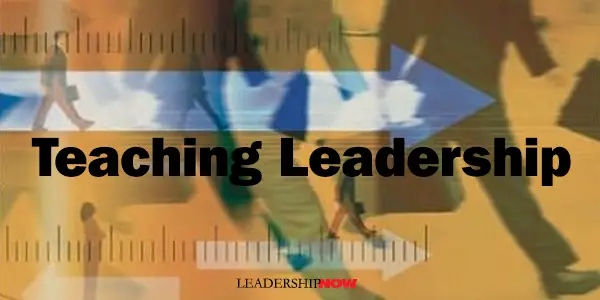 This summer author Paul Taffinder spoke to the Wall Street Journal Online about teaching leadership:
I wouldn't say anyone is born a leader. There have been some studies that indicate people who have been exposed to psychologically traumatic experiences are better leaders. They've had to overcome trials and tribulations. So they're more inclined to be challenging and look deep within themselves for what they believe in. Leaders like that learn to be clear about the story they're telling about where they have come from and where they're going.

Teaching people to control risk is much easier than teaching people to create it. And it's essential for companies to draw the distinction between leadership and management. It's just wrong to use them interchangeably. Managers tend to react. Leaders tend to seek out opportunities. Managers follow the rules. Leaders change the rules. Managers seek and follow direction. Leaders inspire achievement. These are profound differences. Of course, you need both. But organizations fail to recognize the difference.

Organizations start to fail when they start to produce too many managers and not enough leaders. Or too many leaders of a certain type. The lesson in the corporate world, how can you simulate that [traumatic experience] in the corporate world without destroying people. How can you learn from it without becoming a casualty.

Paul Taffinder's book
The Leadership Crash Course
helps to translate lessons learned into practical applications to improve your leadership skills. Looking at the basic personal and emotional components of leadership, the book offers a series of modules that individuals at many levels can study, deploy and refer to from time to time. The lessons are geared toward diagnosing your own behaviors and then applying different techniques to leverage strengths and improve development areas. His
web site
has interactive tools to further explore your leadership style and preferences.
* * *


Like us on
Instagram
and
Facebook
for additional leadership and personal development ideas.
* * *

Posted by Michael McKinney at 08:58 AM
Permalink | Comments (0) | This post is about Leadership Development