Leadership in Action is About Dilemmas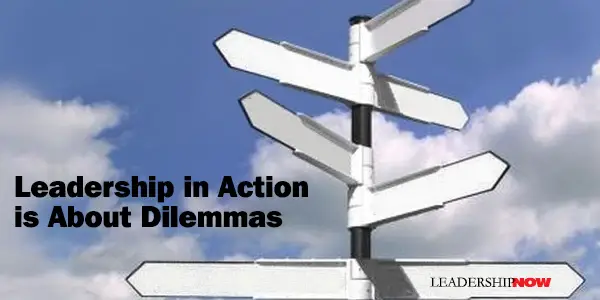 Paul Taffinder writes in The Leadership Crash Course that leadership in action is about dilemmas. In an age where we have more choices than ever before, the leader's job becomes more urgent. The problem isn't necessarily that we have so many choices, but what we base our selection of choices on. The leader's job is to guide this process. This might be called imposing context. This speaks to the need we all share for a framework within which to live.
Context takes into account where we have been and where we are and where we want to go. The leader must add to the conversation those things that need to be considered to make proper choices. A leader should help to cut through the clutter and help people to consider especially those things beyond the realm of selfish concern.
Ironically, getting where we want nearly always means not getting what we want. Leader's frequently must guide people through behaviors and places they would never choose for themselves if left to their own desires. In a society that wants to achieve the desired ends by simply going straight to the desired ends and short-circuiting the necessary intermediate steps, this can be quite a challenge. At times like these, a leader's self-knowledge becomes all the more important.
* * *


Like us on
Instagram
and
Facebook
for additional leadership and personal development ideas.
* * *

Posted by Michael McKinney at 08:44 AM
Permalink | Comments (0) | This post is about Leadership Development