Carly Fiorina On Leading Change
RECOUNTING her days at Lucent, Carly Fiorina writes in Tough Choices about the challenge of bringing about organizational change: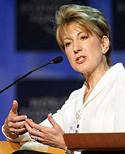 As is true whenever a new leader issues a challenge, a critical mass of the old-timers must rise to that challenge. If this fails to happen, the new leader is simply ignored. People who've never operated in large, complex companies are often surprised to learn that even a change agent with title and position can be effectively rendered powerless by people's collective decision to maintain the status quo. A boss can hire and fire. A boss can reallocate people and money. A boss can measure and reward. A boss can threaten or inspire. Each of these actions and decisions will be analyzed and interpreted by an organization. Some interpretations will motivate change. But no boss, even a president or a CEO, can order people to change. No boss can force people to behave differently. People operate based on their own free will. They will make their own decisions, and in big companies, those decisions are easy to hide.

Leadership is about making a positive difference, and anyone, from any position, can choose to lead.

People don't want to be mediocre; they're just sometimes afraid they can't be any better, or that it won't make any difference even if they are.
* * *


Like us on
Instagram
and
Facebook
for additional leadership and personal development ideas.
* * *

Posted by Michael McKinney at 08:18 AM
Permalink | Comments (0) | This post is about Books , Change , Leaders