Being Relevant
Determining what matters is the one of the first tasks of a leader. Peter Drucker wrote, "The right answer to the irrelevant question misdirects. But the wrong answer to a relevant issue still puts the spotlight where it belongs." One can be right but irrelevant. What matters, what is relevant is dictated objectively by the situation one find themselves in. Determining what is right on complex issues can be daunting and take time, but it is vital that the issue we are working on is relevant. A leader's job is not necessarily to solve the problems at hand, but to get us thinking about the right problems at the right time.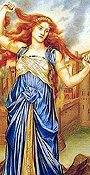 This means creating understanding from the analysis of both sides—or more often, all sides—of an issue. Without the relevant issue we are just spinning our wheels.
A leader might also make use of what
Andy Grove
calls
helpful Cassandras
. You may remember from Greek Mythology, Cassandra's great beauty caused Apollo to grant her the gift of prophecy.
Helpful Cassandras
are those people that can help a leader see other points of view, people that are willing to be blunt, so that a leader doesn't win an argument they ought to lose.
Posted by Michael McKinney at 12:20 AM
Permalink | Comments (0) | This post is about Leadership