The Tripping Point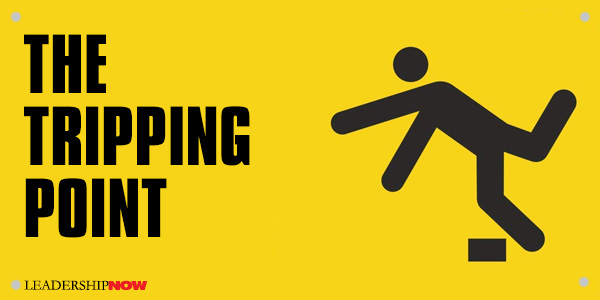 SUCCESSFUL PEOPLE lose more than the average person because they keep trying. Yet it often only takes one success to outweigh the many failures. A successful person takes smart risks. Persistence and the ability to deal with disappointment and often rejection are key characteristics for the successful person.
In Success Built to Last by authors Jerry Porras, Stewart Emery and Mark Thompson, they call the inevitable stumbles or failures on the way to success, tripping points. It is these tripping points that successful people "harvest." Successful people "think of both success and failure as feedback. The question is not whether they won or lost this round, but what they will do with the feedback."
They explain, "The bad news is that even when you're doing your best, if you fail at any point, you'll get harsh reviews. Think of the last time you got good press for bad news. … For much of the journey, innovation is hard work rewarded by bad headlines.
"This is just one more reason why people hide out from pursuing their full potential to follow their dreams and serve the world. Enduringly successful people aren't immune. They just tolerate risks, feel the fear, take the brickbats, learn from failure, and do what matters to them anyway."
Failures are inevitable. After you deal with them you must refocus your vision, learn from the failure and make new mistakes. The important thing is to keep moving forward. Successful people "become more resolute after losing a battle they believe in because they learn from the loss—it gives them a better idea of what matters, what works, and what doesn't."

They interviewed, among hundreds of others, retired Stanford professor James G. March who added this, "
Short-term reality is an insult to the vision.
You have to be self-delusional to create change—it's a useful craziness guided or founded on your clear identity and knowing what you must do."
The book is an excellent survey of how enduringly successful people have made success happen. There are a lot of great nuggets in here worth taking a look at. We'll look at a few more of them in the days ahead.
* * *


Like us on
Instagram
and
Facebook
for additional leadership and personal development ideas.
* * *

Posted by Michael McKinney at 12:06 AM
Permalink | Comments (0) | This post is about Books , Change , Learning