Problems Are Everywhere and Everyone Has Some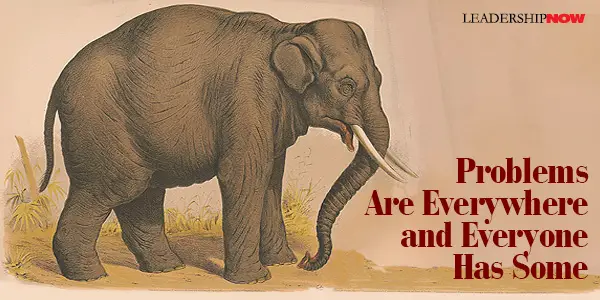 W
E ALL go through bad patches, but a successful person is able to not only extract the lessons but is also able to form a perspective on it that will keep a positive outlook and a forward momentum. You can't change the facts. Things are what they are. And you may need at times, someone close to you to help you step back from the situation, but you can keep your sense of humor—shift your focus—and change your perspective. And here's the thing. When you lose your sense of humor and a broader perspective, you're more likely to make things worse.
When we respond to troubles and problems in a positive way, we can more easily maintain our creativity and resourcefulness that will come in handy in resolving the issue. A positive response can keep us in problem-solving mode.
A good example of reframing a situation for an overall positive outlook comes from one of my favorite opening lines. It is from a good piece of writing by George Orwell (Eric Blair) entitled Shooting an Elephant.
In Moulmein, in Lower Burma, I was hated by large numbers of people—the only time in my life that I have been important enough for this to happen.
* * *


Like us on
Instagram
and
Facebook
for additional leadership and personal development ideas.

Posted by Michael McKinney at 12:45 AM
Permalink | Comments (0) | This post is about Personal Development