Save the World and Still Be Home For Dinner
Save the World and Still Be Home For Dinner
by Will Marré shows how can we can both live life on our terms and do something that matters for others, how we can both find financial security and live life as a personal adventure, how we can both make radical changes in life and keep the relationships and things we most value. "After all," Marre says, "Isn't that what we all want? To save the world and still be home for dinner?"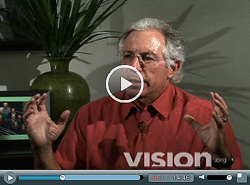 In a thought provoking
interview
, Will Marré speaks to
Vision
about about leadership, organizations, changes in the corporate world, personal contentment, and quality relationships.
"
The critical issue of leadership today is moral intent.
If we get people who are very effective at being leaders, who don't have worthwhile moral intent, we get what we got."
"Self interest is not a sufficient motive to create valued innovation. In other words, big innovation."
Many large organizations, "become protected around their financial well-being and they start to look at everything in terms of financial risk and so it thwarts true innovation."
"It all comes down to the quality of intimacy in our relationships. In other words, there's no success that compensates for a lack of that high quality intimate relationship with at least one other if not several other human beings. We don't get that without making an effort. We don't get that by being stupid about relationships."
"If you
imagine the very best thing you can do
… and what might be really good is being the best mother you can be this afternoon or the best father you can be tonight. Sometimes the best way to change the world is to change a diaper. In other words, there are moments of truth everyday – many times – and if we step in do the best thing we can imagine doing in those moments of truth, then we will set up a chain of life that is self-reinforcing, self-motivating, self-fulfilling."
The short 15 minute
interview
is time well spent.