Five Tips From Atsutoshi Nishida on Overcoming a Crisis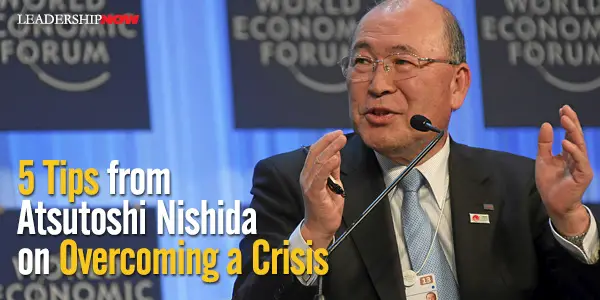 The
Wall Street Journal
interviewed
Toshiba Chief Executive Atsutoshi Nishida who recently pulled the plug on the company's HD DVD business. From that interview came the following wisdom regarding crisis leadership in particular but good ideas to keep in mind regarding the daily crises we often face in the minutia of our day.
Keep in mind that business without risk is business without growth.
Work with the facts. Listen to the market, not your ego.
Act quickly and decisively. Delay makes things worse, not better.
Be a proactive leader and clearly communicate your decisions.
Be resilient and continue to innovate. Success is not forever, nor is failure.
That fifth step is important to keep in mind as it helps you keep things moving forward rather than getting bogged down in your current situation. Things change. Most things are cyclical. He explained the balance between practicality and enthusiasm in decision making.
I don't operate just on logic. I'm practical, but I also have enthusiasm, which is the side of me that's not practical. If you have that in addition to a strong will to achieve your goals, then you can overcome any adversity. For example, I used logic to rationally make the decision to quit HD DVD, but my enthusiasm allows me to move forward.

If you don't take risks, you make no progress. Situations change constantly, so if we can't change with them, then there's no future for us.
Enthusiasm too, helps us to reframe our problems in a way that is constructive. This is not a naive optimism, but an informed optimism that reflects the reality of the situation.