Timeless: 10 Enduring Practices of Apex Leaders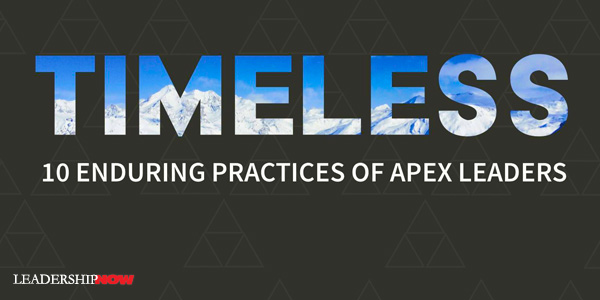 T
HE FOUNDATIONAL PRINCIPLES of leadership don't change over time. They are indeed timeless. Brian Dodd examines in
Timeless
(
Kindle
) what it takes to reach the top of your profession.
How do you become the best at what you do?
How do you become an Apex Leader?
Dodd has selected the 10 key practices that Apex Leaders have in common. While character, patience and empathy are important for a leader to sustain their leadership, they are not necessarily the behaviors and practices needed to get to the top of their chosen profession. To be sure, Dodd writes, "there are times when a leader's talent can take them to places where their character cannot sustain them." But that's another story. Here, Dodd focuses on the achievement side of the equation. What is required to be the best at what you do?
Brian Dodd is the Director of New Ministry Relationships for Injoy Stewardship Solutions an organization founded by John Maxwell. While Timeless will resonate with Christian leaders, the principles apply across all organizations and contexts.
As readers of his blog have come to expect, Dodd draws on many examples from the world of sports. All of these principles are found in scripture and are being successfully applied by Apex Leaders in organizations of all types.
Here are 10 things Apex Leaders have done and will always do to achieve great success with Dodd's insights:
Apex Leaders Build Great Teams
Apex Leaders are part of selfless, humble teams who are committed to each other's success. Your team is your primary difference maker. Apex Leaders look for skill, work ethic and passion when building a team.
Apex Leaders Are Humble
Humble leaders do not deny their talents but are thankful for them. Humble leaders acknowledge that no matter how good they are, they are in constant need of support. All successful leaders must be servant-leaders first. They acknowledge they have been granted opportunities not for personal gain, but for the betterment of others. Humble leaders know they have not arrived. The mission and vision of what they are trying to accomplish is too important to remain the same.
Apex Leaders Continually Improve
Are you willing to be rebuilt? Pride and arrogance are enemies of continual improvement. An Apex Leader never asks, "Am I part of this organization's past?" but, "Am I going to be a part of the future?" Continual improvement assures sustainability and continual options.
Apex Leaders Work Hard – Very Hard
Many leaders think their talent and competence alone will get them where they need to go, but hard work will always beat talent and competence when talent and competence don't work hard. Proverbs 6:10-11: "A little sleep, a little slumber, a little folding of the hands to rest—and poverty will come on you like a thief." No one is there to applaud the lonely work, but everyone applauds its results.
Apex Leaders Form Strong Relationships
One of the most impressive things about the leadership of Jesus was his continual focus on relationships. There is only one thing in your business which appreciates—your people. The most important relationship a leader needs to cultivate and protect is the relationship with their family. If you want to accomplish anything great as a leader, you must surround yourself with competent staff.

Worth thinking about: Almost all important decisions made about you and your career take place when you are not in the room. So, always leave a trail of kindness and respect behind you.
Apex Leaders Make Others Better
No matter how talented you are, you need someone who can make yourself better. Ralph Waldo Emerson said, "It is one of the most beautiful compensations of this life that no man can sincerely try to help another without helping himself."
Apex Leaders Show Consistency
Organizations and their people suffer because of a lack of appreciation for consistent excellence. No athlete ever demonstrated consistent excellence better than the legendary Hank Aaron. We over-celebrate big results and under-appreciate consistent excellence. Aaron reminds us greatness is not always achieved through short-term spectacular results but sometimes through long-term consistency.
Apex Leaders Give Generously
The model of a generous life is investing in spiritual truth, intellectual capital, money, praise, encouragement, influence, and joy in other people's lives.
Apex Leaders Lead by Example
You cannot lead by example if you do not effectively lead yourself first. Leading by example means putting the mission of your organization above your personal aspirations. Leaders who lead by example fight for unity.
Apex Leaders Deliver Results
Achieving results is one of the primary things separating Apex Leaders from all others. Delivering results requires preparation, decisiveness, talent, limiting unnecessary mistakes, energy, continual improvement, confidence, good health, and passion. Five-time Super Bowl champion Tom Brady said, "Every year has its challenges in different ways … you've always got to work on something." They also deliver under pressure. Brady said, "To me, what separates really good players from great players—execute well under pressure. The biggest game. The biggest stage. That's what playing quarterback is all about."
A leaders character and people skills make someone want to follow them. The ability to deliver results determines if someone actually will follow them.
* * *


Like us on
Instagram
and
Facebook
for additional leadership and personal development ideas.
* * *

Posted by Michael McKinney at 11:18 AM
Permalink | Comments (0) | This post is about Personal Development