6 Characteristics of Type R People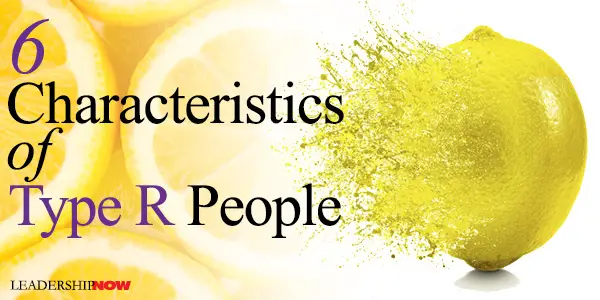 W
E SEE THE EFFECTS of turbulent change all around us on individuals and organizations. Some people seem to be able to rise to the occasion while others fold in the face of it. Most of us don't have a choice but to meet what the world throws at us head-on.
Ama and Stephanie Marston describe what is needed to leverage change and hardship into opportunity as individuals and organizations and carry that progress into the world in the form of a contribution to the greater good in
Type R: Transformative Resilience for Thriving in a Turbulent World
.
Those who flourish in this world don't just have resilience, they have
Transformative Resilience
: the ability to learn, grow, and spring forward. These are people they refer to as
Type Rs
.
Transformative Resilience frames challenge as an opportunity rather than a problem. It leads to new approaches and questions about how to best address an issue. It asks, What other doors might open for me? What other things might I do? What changes do I need to make? It isn't simply what happens to us, but how we respond to what happens that has the greatest effect on the trajectory of our lives after adversity.
The world is uncertain, but
the "certainty we seek is that we have the inner resources to transcend our challenges and in fact be transformed by them."
Having the Type R mindset and characteristics act as a shock absorber that enables people and organizations to cope with the day-to-day stress as well as the seismic events."
Regardless of our age or background, if we think of ourselves as adaptable, confident, robust, and able to continue to grow, we will spring forward from stress and challenges in our lives.
The Marston's have found
six characteristics
that reinforce and interact with one another that will help individuals and organizations to cultivate Transformative Resilience. Each one of these six characteristics can be developed and strengthened over time and when thoughtfully engaged, will take us to the opportunity beyond the challenge.
1. Adaptability
Adaptability is the tension between "knowing when to hold firm and when to accept the changing world around us and alter our outlook, goals, and plans." As our world becomes more uncertain, we tend to look back to the good-ol'-days for support, but this can make us resistant to change. Knowing what you can and cannot change and when to adapt and reframe to find positive outcomes, is a critical skill in today's world.
2. Healthy Relationship to Control
Closely linked to adaptability is having a healthy relationship to control. This involves having a strong sense of when to exercise control, when to persevere, and when to let go. While believing that everything is outside of our control and nothing that we do matters is unhealthy as it causes us to stagnate, believing that we alone are responsible for what happens to us is only healthy to a point. An extreme internal locus of control can cause us to take on "too much responsibility for ourselves and the world around us" causing undue stress and difficulty "because it doesn't take into account eternal factors" and cause us to be overly rigid.
Type Rs learn to "assess what's within their sphere of influence and what's not. They realize that strength isn't always determined by triumph over the outside world but sometimes by changing our inner world."
3. Continual Learning
An important factor in continual learning is knowing yourself and reflecting on the situations you encounter so that you can extract the all the lessons you can to better prepare you for future challenges. Type Rs should always be aware of what is going on in their world so that they can learn and adapt in anticipation of coming challenges rather than having to react to them. Curiosity "is vital to adaptability and intellectual growth, and it motivates ongoing learning and forward motion."
4. Sense of Purpose
Having a sense of purpose is your north star. Regardless of the uncertainty and indecision around you, a sense of purpose grounds you with values to keep you on course and set a direction. It also provides you with the means to find meaning in whatever you are going through.
Along with the other Type R characteristics, a sense of purpose helps to inspire others through the way we approach each situation. "Type Rs maintain a vision of what truly matters, what their lives and their work are about, and what they want it to be. A sense of purpose provides a buffer against obstacles; a person or group with a strong sense of purpose can more easily remain engaged and satisfied with life or work even while experiencing challenges."
5. Leveraging Support
Don't go it alone. The Marston's write that "One of the biggest obstacles to growing from adversity is the sense of being alone." It is important for building resilience that we have a strong network of people we can count on both personally and professionally. They provide a safety net and a sense of security. They also help to give you time to reflect, create perspective, and think about the challenges you face. "Many of our successes might rise and fall with our ability to leverage support."
6. Active Engagement
Transformative Resilience "takes place when the Type R mindset and its various characteristics and skill are combined with forward motion." Along with a healthy relationship to control, staying engaged is believing that no matter what happens you have what it takes to deal with the changing and often challenging circumstances in your life. This also means being proactive and confronting the issues rather than avoiding them.
Knowing that you have the inner resources to stay engaged helps you to slow down and respond rather than reacting. While challenges are stressful, "research shows that those who focus on the challenging dimension of a stressful circumstance, rather than seeing it as a threat, experience a different form of stress." This is because, "their fear reaction is suppressed and instead a response linked to hormones and parts of the brain associated with positive emotions and learning are triggered, thus encouraging engagement."

What's Your Type R Quotient?
Take the
Type R assessment
.
* * *


Like us on
Instagram
and
Facebook
for additional leadership and personal development ideas.
* * *

Posted by Michael McKinney at 05:14 PM
Permalink | Comments (0) | This post is about Change