5 Leadership Lessons: Great Leaders Grow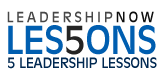 Ken Blanchard and Mark Miller have penned another business fable,
Great Leaders Grow
. People and organizations are not fully alive unless they are growing. They ask, "will you be a leader who is always ready to face the next challenge, or will you be a leader that tries to apply yesterday's solutions to today's problems? The latter will ultimately fail," say the authors. The solution is to GROW:

Growth is the leader's fountain of youth. Growing, for great leaders, is like breathing. It's not optional. It is
not
something you do in addition to your real job. It is at the core of your real job. Your capacity to GROW will determine your capacity to lead. If you get too busy with your job to grow, your influence and your leadership will stagnate and ultimately evaporate.

I don't control whether I'll be in a formal position of leadership. But I can control my readiness to lead.

My capacity to learn determines my capacity to lead. If I stop learning, I stop leading. If I'm not learning and growing, it will be impossible to leverage my talents.

Great leaders make the choice to GROW in four areas:
Gain Knowledge.
Gain self-knowledge, knowledge of others, your industry, and the field of leadership
Reach Out to Others.
You need to be proactive about helping others grow if you're going to grow and learn. Teaching isn't just about sharing information, it's also about helping people draw out new learnings for themselves by the question you ask.
Open Your World.
You will add much more value as a leader if you open up and expand your world with leadership experiences and life experiences. Be on the lookout for experiences inside and outside work that will make you a better leader over time.
Walk Toward Wisdom.
Growth in wisdom has no formula, but it almost always involves at least one of four elements: rigorous self-evaluation, honest feedback, counsel from others, and time.

The two primary reasons leaders get off track are ego and fear. For many leaders, their ego is fueled by a heightened sense of confidence—you might call it overconfidence or pride. This, combined with the fear of losing control, often prevents leaders from serving people.
| | | |
| --- | --- | --- |
| | | The path to increased influence, impact, and leadership effectiveness is paved with personal growth.… Our capacity to grow determines our capacity to lead. It's really that simple, say Blanchard and Miller. The failure to grow sabotages the career of more leaders than anything else. |
* * *

Like us on
Facebook
for additional leadership and personal development ideas.
* * *

Posted by Michael McKinney at 09:52 PM
Permalink | Comments (0) | This post is about Five Lessons